High school football team escapes heat with gym practices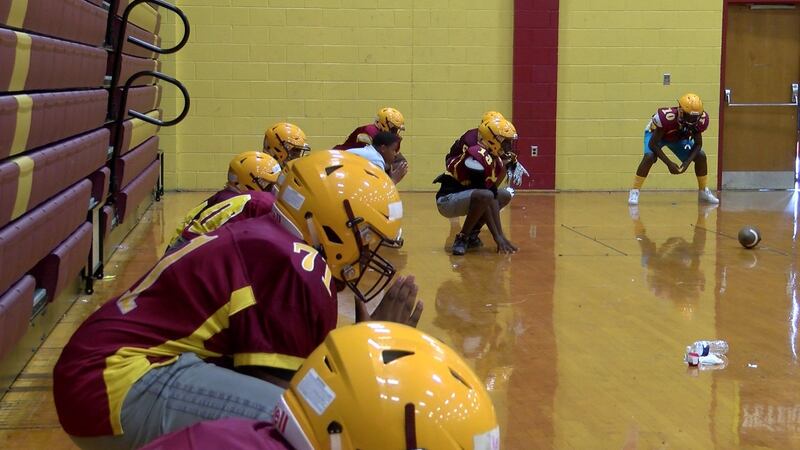 Updated: Aug. 29, 2018 at 8:34 AM EDT
PETERSBURG, VA (WWBT) - The heat index soaring into the triple digits had many of us looking for a pleasant place to escape the blistering sun.
That meant football teams across the Commonwealth had to get cool and creative with how they conducted practice Tuesday afternoon.
"I feel like just anybody can't play this game, you have to really be a warrior to do something like this," said Petersburg Varsity Football Coach Micheal Scott.
The warriors on the Petersburg High School football team live for the heat of the game, but when the heat from the sun proves too intense - it's time to take practice inside.
"I'm kind of relieved we're inside today," said Scott. "It's a little too warm and we're trying to keep our kids safe."
"We've got to find some time to get some type of work in. We can't just miss practice because of the heat," said wide receiver Zyshawn Whyte.
Tuesday evening's heat advisory for Petersburg forced the Crimson Wave to trade the grass of the gridiron for the cool confines of the Petersburg High School gym.
This cooler setting provides its own challenges.
"Everybody (is) packed in one little spot so you can't really move around," said Whyte.
But offer some advantages.
"Being in the inside, it's better even though it's a small space. You can spread out just a little bit," said Whyte.
But the practice is no less rigorous and with their first game of the season Thursday, these coaches expect raw effort, blood, sweat and tears with every weight lifted and drill completed.
"Taking on blocks, the proper way to tackle and even taking the right steps," said Scott.
While coach Scott strives for excellence, his love for the sport never trumps the safety of his team.
"It's a game to have fun not to really go overboard and hurt your kids, so you've got to put your safety first before anything else," said Scott.
Coaches said they will continue to have practice indoors any day that reaches above 90 degrees.
Copyright 2018 WWBT NBC12. All rights reserved.