Woman suffers cracked skull when tree falls on 5 homes
Published: Jun. 22, 2018 at 4:31 PM EDT
|
Updated: Jun. 22, 2018 at 5:22 PM EDT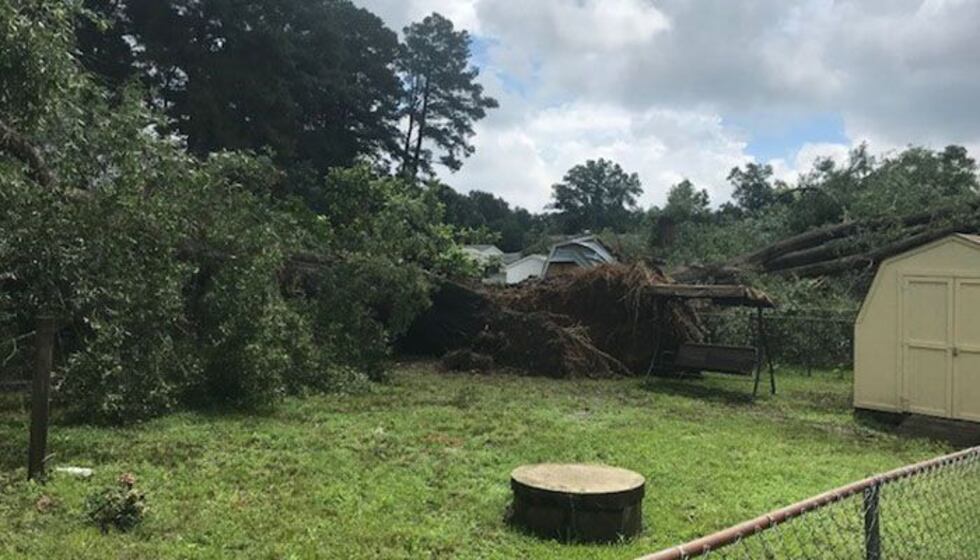 HENRICO, VA (WWBT) - Five homes were damaged, three of them condemned, after a massive tree split in half and fell along North New Avenue and North Mapleleaf Avenue in the Highland Springs area of Henrico on Friday morning.
Linda Taylor and her son Willie lived inside one of the homes that was condemned on North New Avenue. They both were jolted out of their sleep around 6:30 a.m. when the tree fell on top of their home.
"I just heard a big boom and when I jumped up and looked up I saw the tree all through the ceiling," Linda Taylor said.
RELATED: Entire mobile home park displaced by flood
"It felt like I was in a war zone honestly," Willie Taylor said. "I wake up and my wall is caving in and I go running out of my room and everything around me is caving in, roofs are falling in."
The wall caving in physically pushed Willie Taylor out of his bed.
"Out of no where like 10 seconds later, the wall starts caving in behind me, pushing me out of my bed," Taylor said.
He jumped out of bed to check on his mother and his aunt, who is his mom's best friend. Willie Taylor suffered scratches and abrasions to the back of his arm and his back.
"Instantly, the roof and stuff starts caving in so I went to go check on my mom and my aunt and instantly as soon as I leave out of my room, the living room roof caves in, the hallway caves in," Willie Taylor said.
RELATED: Friday's rain nears all-time record
Taylor's mother's best friend was submerged in debris. She was unconscious and suffered a cracked skull.
"Most of the tree fell on her along with the roof and the attic," Willie Taylor said. "She had blood all on her face and the EMTs showed up and they were able to save her and get her out of there, but she was still unresponsive."
Willie bought the home for his mom last February. She has suffered from multiple sclerosis for almost two decades and could no longer use the stairs in their old apartment.
"I don't know, I don't know what I'm going to do," Linda Taylor said. "I don't have a house anymore."
Taylor can't even get inside to get her medication.
"I don't have anywhere to get my medical treatment,"Linda Taylor said.
But she does have a supportive family and son who are remaining strong for her during this difficult time.
"I am trying to keep it together right now because I know my mom is struggling right now so I'm trying to stay strong and positive for her," Willie Taylor said. "Hopefully we can get this tree knocked down and rebuild."
The Red Cross did come out to help this family and luckily the family does have homeowners  insurance.
Their insurance company is putting them up for the night in a hotel as well.
There is no word on the condition of the mother's best friend who was seriously injured.
Copyright 2018 WWBT NBC12. All rights reserved.