Cool Guys Wear Gowns: See a doctor now before heart disease strikes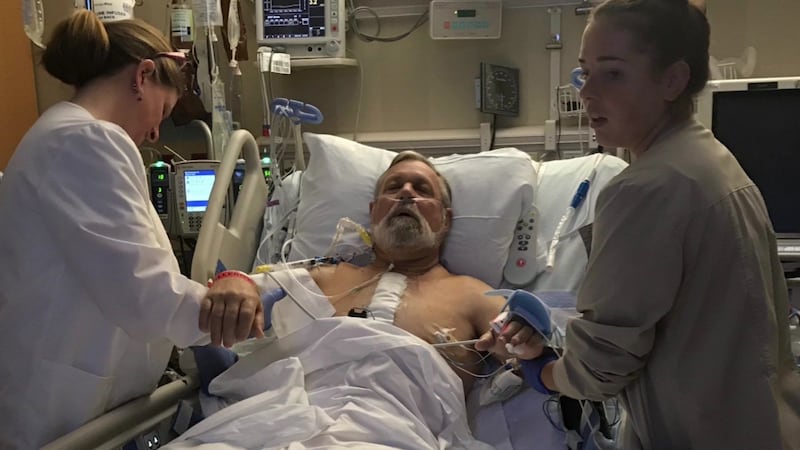 Published: Jun. 8, 2018 at 6:15 PM EDT
|
Updated: Jun. 13, 2018 at 3:53 PM EDT
RICHMOND, VA (WWBT) - June is Men's Health Month, and NBC12 is teaming up with Bon Secours to do a series of stories this month aimed at improving the health of our husbands, fathers and brothers.
We are kicking off this month with a look at the number one killer bar none: heart disease.
Discover your risk level with a free heart assessment tool under the 'Heart Disease' section of the Bon Secours Men's Health page
Looking at Jess Southworth, you'd never know that he underwent open-heart surgery just two-and-a-half weeks ago.
"Great, feel like a new person," Southworth said.
The 65-year-old Milford man says it was the middle of the night about a month ago, when he was heading out back to get a generator after a storm rolled through.
"By the time I got from up here to downstairs to out to the backyard, I was done," Southworth said. "I didn't think I was going to get back in the house. I felt tremendous chest pain from here up to my neck and down both arms to each elbow."
He had been dealing with feelings of exertion before, but this scared him enough to do something he should've done sooner - go to the doctor. He saw Cardiologist Dr. Ravi Ravindra.
"When we took the pictures of his heart, it was like a time bomb waiting to go off," Dr. Ravindra said.
Valves on half of Southworth's heart were clogged, causing the muscle to overcompensate. A day later, doctors performed double bypass surgery on the husband and father of four, leaving him hospitalized for several days.
He's now at home following doctor's orders by walking as much as possible. He gets emotional just thinking about what could have happened.
"Thinking that I wouldn't be here to watch my grandkids grow up and that kind of stuff," Southworth said. "I came that close to leaving my family here without me."
Southworth's outcome has been positive, but there are many others that are not so fortunate.
"Almost twice as many deaths happen from heart disease as compared to all other cancers put together," Dr. Ravindra said.
Sometimes there are no symptoms to warn you.
"Half of the patients who come in in cardiac arrest had no symptoms before that particular day. They had an arrest and died," Dr. Ravindra said.
Dr. Ravindra says in addition to regular doctor visits, there are three main things you can do to reduce your risk of heart disease.
"Exercise regularly, do not smoke, eat healthy," said Dr. Ravindra.
He recommends:
30 minutes of rigorous exercise three to four times a week

Reducing salt intake, fried foods and sweets and red meat - the more belly fat, the higher the risk of heart disease

Absolutely no smoking, as it substantially increases your risk
Finally, Dr. Ravindra say patients often overlook subtle symptoms that can be telling. It's not always chest pain.
"You could be getting arm pain, neck pain, jaw pain, back pain," Dr. Ravindra said. "If you have any of these things, it should raise red flags."
Red flags that should not be ignored. Ask Southworth.
"Guys, don't be bull-headed," Southworth says. "If you think you have problems - even if you don't think you have problems - go to the doctor and get checked out."
Copyright 2018 WWBT NBC12. All rights reserved.