1 dead after flooding strikes Virginia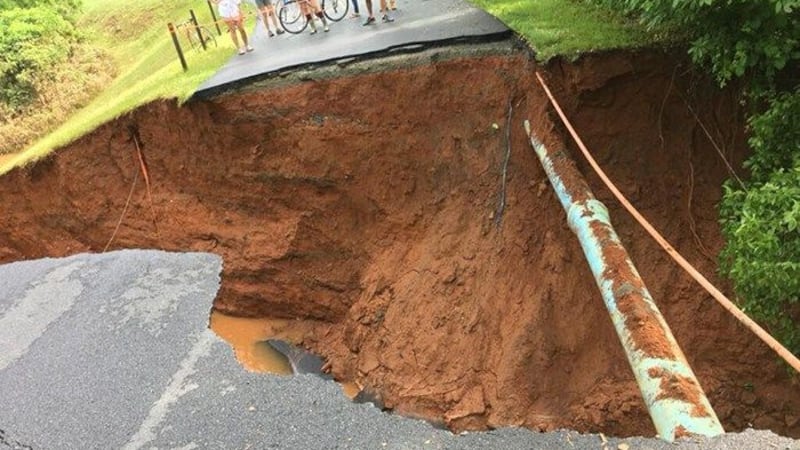 Published: May. 31, 2018 at 9:21 AM EDT
|
Updated: May. 31, 2018 at 4:40 PM EDT
ALBEMARLE, VA (WWBT) - One person is dead in Albemarle County after flooding struck Virginia late Wednesday.
A man and woman were seen outside a Toyota Prius as it got swept away around 9 p.m. at Ivy Creek. One of their bodies was discovered Thursday afternoon, while the other person was still missing.
The National Weather Service says between 7 and 9 inches of rain fell in areas along the Blue Ridge Mountains. One person was also missing in Madison County.
A swift water rescue team from Lynchburg assisted in the search in Albemarle, as did the Virginia Department of Emergency Management.
Alyson Valente was distraught to hear that a couple was swept away by flood waters on the road she lives on.
"Devastated. The police are now searching behind our property," Valente said. "We gave them permission with the hope they can locate them somewhere. There was a tremendous amount of flooding. There was very high water. It was gushing through the road. It was unsafe, it was truly unsafe."
As crews searched for the missing man and woman other crews worked to clean up damage around the county. Holkham Drive completely caved in trapping residents on this dead end.
But nothing was shocking and distressing as the search currently happening on Old Ballard Road.
"Its been flooded out a couple times and there have been other instances when cars have been swept away," Valente said.
FACEBOOK LIVE UPDATE: 
In Madison County, the sheriff's office said a woman was reported missing after heavy rain hit the area.
Numerous search units are in the area Thursday morning at the Rose River continuing to search for her.
Copyright 2018 WWBT NBC12. All rights reserved.