Widow discovers grave she visits is not her husband's after cemetery mix-up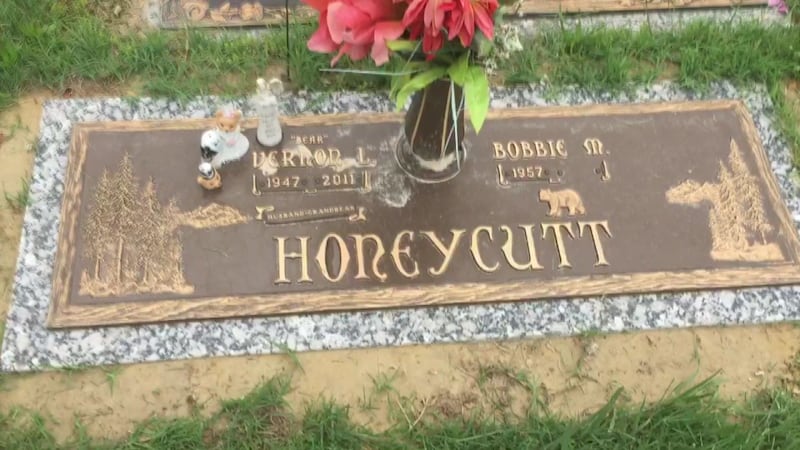 Published: May. 30, 2018 at 3:18 PM EDT
|
Updated: May. 30, 2018 at 3:48 PM EDT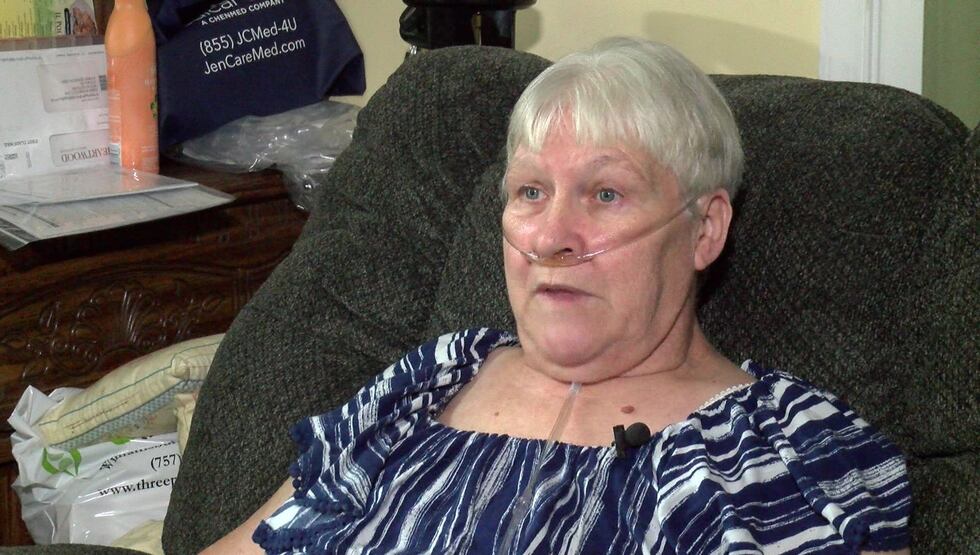 PRINCE GEORGE, VA (WWBT) - A Prince George widow is able to rest easy after 12 On Your Side was able to help her get to the bottom of a cemetery mix-up.
The problem surfaced weeks ago, when Bobbie Honeycutt was informed the grave she had been visiting for years was not her husband's.
"I feel like I'm having to go through all of it all over again," Bobbie Honeycutt said. "Him dying all over."
From her Prince George bedroom, attached to an oxygen machine, Bobbie Honeycutt talked about her husband Vernon. As she did, there's a brief smile.
"He was a big teddy bear, and his nickname was bear," Honeycutt said.
He passed away in 2011. He was cremated - his remains placed in an urn that was buried inside of a box at Southlawn Memorial Park in Prince George. But weeks ago, Bobbie learned this disturbing truth.
"I went out there to visit him thousands of times, and it wasn't even him," Honeycutt said.
Something she found out about a month ago when she was fresh out of the hospital dealing with heart and lung problems.
"The next day, Southlawn Memorial Park - where my husband is buried - called me and told me my husband wasn't buried where I thought he was, that he was buried eight spaces down," Honeycutt said. "When they put his memorial down seven years ago, they put two or three down the same day and just messed his up."
Management told her they made the necessary correction by moving the marker to the right grave, but Bobbie said not so fast.
"[I] told her that I wouldn't feel comfortable until they dug him up so I can see his urn and make sure it was him," Honeycutt said. "They told me they would not do that, but that they would probe it."
Probing would indicate that the grave where her husband is buried contains an urn, not a casket. Honeycutt said that wasn't good enough.
"No, because I don't know if that's his urn. It could be anybody's urn there," Honeycutt said. "I want to see the actual urn."
She says management told her no, and that's when she called 12 On Your Side.
"My life depends on it," Honeycutt said. "I need to know when I go visit him, that that's him and not somebody else, like it's been for seven years."
NBC12's Eric Philips reached out to the cemetery officials, who said they'd look into the matter. They later responded that they would unearth the urn for Honeycutt.
Cemetery officials issued a statement saying in part:
Southlawn Memorial Park's mission is to help families memorialize every life with dignity, including providing and maintaining a tranquil and beautiful place for memorialization. In this instance, we have fallen short of our standards...
The grave was opened Tuesday, and Honeycutt was able to identify her husband's urn - a process that she says gave her peace.
"You have no idea how I appreciate 12 On Your Side and you, because I wouldn't have this peace if it wasn't for you," Honeycutt said.
She said fighting for peace was the least she could do for her husband of three-and-a-half years who was the love of her life.
"And he took such care of me," Honeycutt said. "He was my first love, and we got back together after 30-something years."
Copyright 2018 WWBT NBC12. All rights reserved.