Dramatic moves in Senate committee over budget, Medicaid expansion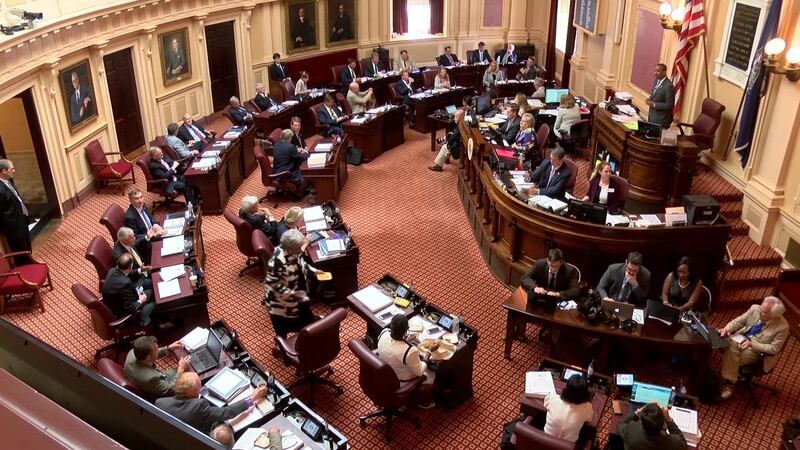 Updated: May. 29, 2018 at 6:54 PM EDT
RICHMOND, VA (WWBT) - There was drama in a Virginia Senate committee on Tuesday over the proposed budget and Medicaid expansion. It may be a preview of the expected debate in the full Senate Wednesday, as the state nears the July 1 deadline to pass a budget.
The Republican-led Senate Finance Committee voted down a budget bill with amendments that included expanding Medicaid coverage for 300,000 more low-income Virginians. Instead, the committee advanced a budget bill without expansion.
Then Senate Majority Leader Tommy Norment (R – James City County), who opposes Medicaid expansion over cost concerns, attempted a political move to kill it altogether.
He moved to have the committee reconsider its vote. That's because if the committee voted it down a second time, the full Senate would not be able to resurrect the bill.
But committee co-chair and expansion supporter Senator Emmett Hanger, Jr. (R – Augusta) caught on to the move, abruptly ruled the motion out of order and concluded the meeting.
"Senator Norment, I rule your motion, your attempts out of order. All right, meeting is adjourned," said Hanger, banging the gavel.
"And just to be certain, I'm leaving," Hanger told reporters on his way out.
"It was a strategic move, so we can take those amendments out and not reconsider those amendments," explained Senator Amanda Chase (R - Midlothian) of Norment's effort.
This comes while a GOP spokesperson says a new effort is underway to repeal the Affordable Care Act in Congress. That has the majority of Senate Republicans concerned that federal funding for Medicaid expansion could be cut, leaving the state to cover the cost.
"It's debt. It's not money we're missing out on. It's federal debt that we'll pass on to our children," said Chase.
The full Senate convened briefly Tuesday for procedural moves and will reconvene Wednesday morning.
Since Norment's effort to kill the bill with Medicaid expansion failed, Senate Democrats say they plan to resurrect it in the full Senate.
"You would just reject the Senate committee amendments and slap Emmett's amendments on," said Senator Dick Saslaw (D - Springfield), referring to the bill including Medicaid expansion.
A heated debate is expected in the Senate on Wednesday. The House of Delegates is also scheduled to reconvene. Lawmakers on both sides of the aisle say they expect to pass a budget by the end of the day.
Copyright 2018 WWBT NBC12. All rights reserved.