Senate delays budget talks to consider new amendments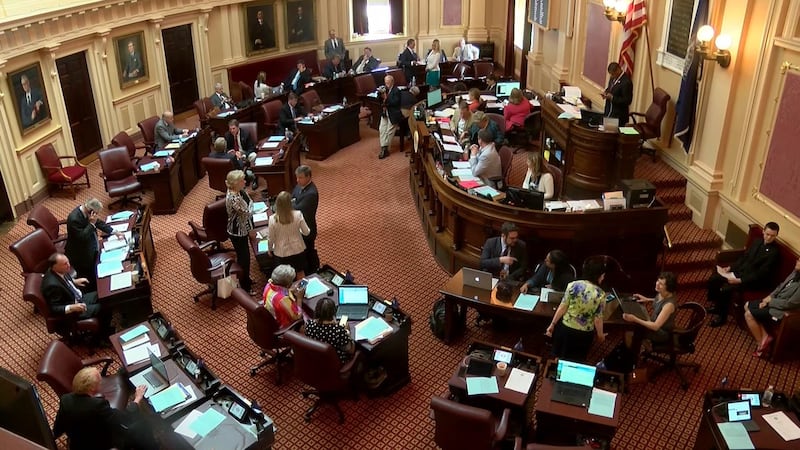 Updated: May. 22, 2018 at 10:58 PM EDT
RICHMOND, VA (WWBT) - It will be at least another week before Virginia has a new budget, coming closer to the July first deadline, as the battle continues over whether to expand Medicaid coverage to 400,000 more low income Virginians.
The state Senate reconvened Tuesday in Special Session to consider the budget, but it instead decided to reconvene again next Tuesday, when the Senate Finance Committee will consider a budget bill with new amendments.
This comes after Senate Finance Committee Co-chair Emmett Hanger, Jr. (R - Augusta) negotiated new budget amendments with House Appropriations Chair Chris Jones (R - Suffolk). Hanger is one of two Senate Republicans who have said they would vote for Medicaid expansion in the budget under certain conditions.
"We still have a clear divide in our Senate caucus, our Republican caucus, where the majority are still opposed," said Hanger. "But we're trying to add some provisions that make it more comfortable. Some of us are convinced that it's the right thing to do."
The amendments include more money for the reserve fund, teacher and state-worker pay raises and mental health services. Emmett hopes the amendments will help persuade more Senate Republicans to support a budget with Medicaid expansion.
"It's time to do it. So I just want a very deliberative conversation on the amendments being proposed," said Hanger.
Protestors and expansion advocates continued to call out to senators as they walked into the Capitol.
"We need to realize there are lives on the line here, and that fiscally it may only make sense, too," said advocate Kenny Boddye. "We are losing billions of dollars every year from the federal government for not expanding Medicaid. That doesn't even go to healthcare, too. That can go to jobs, economic development, education, infrastructure, that can help people as well."
Senator Amanda Chase (R - Midlothian) is still among most Senate Republicans concerned the state will face escalating Medicaid costs if the Affordable Care Act and its federal funding is overturned.
"One of my biggest concerns is that we are taking federal money, which is technically debt," said Chase. "That's not money that's on the table, so that's not guaranteed funds. I'm also concerned that we have a hospital tax that's implemented in that budget."
She says if Medicaid later takes up more of the state budget, that could mean less money for other needs.
"We're going to end up with higher taxes. Cutting different programs like education, which is very important to me as a mother of four kids. Things like education, transportation, I'm very concerned," said Chase.
The Senate Finance Committee will meet Tuesday, May 29. Senate Majority Leader Tommy Norment (R - James City) said he expects the Senate to reconvene later that day and perhaps Wednesday to take up the budget.
Governor Northam responded to the announced delay with this statement: "The continued delays and procedural stall tactics that we are seeing from the Senate create uncertainty for families and local governments, threaten Virginia's bond rating and run afoul of this Commonwealth's reputation for efficient and effective government."
Hanger and Senate Minority Leader Dick Saslaw (D- Fairfax) said that if there are any delays after that, they will make a motion to discharge the Finance Committee, sending the budget bills to the full Senate for a vote.
"Healthcare is not a privilege; it is a right," said Saslaw. "A lot of us here have had a lot of breaks in our lives, but there are a lot of people out there who don't get these breaks. They work hard but for one reason or another things don't turn out right for them. These are the people who need our help…One way or another we are going to get Medicaid expansion to the Governor's desk."
House Speaker Kirk Cox (R - Colonial Heights) has canceled the House's plan to reconvene Wednesday, saying in a statement, "The House of Delegates passed a budget five weeks ago. Since then, the Senate Finance Committee had ample time to draft a budget and put it on the floor for debate and a vote. Instead, we've seen a series of disappointing delays that have pushed this process late in to May."
Copyright 2018 WWBT NBC12. All rights reserved.