Flooding leaves homeowners trapped for days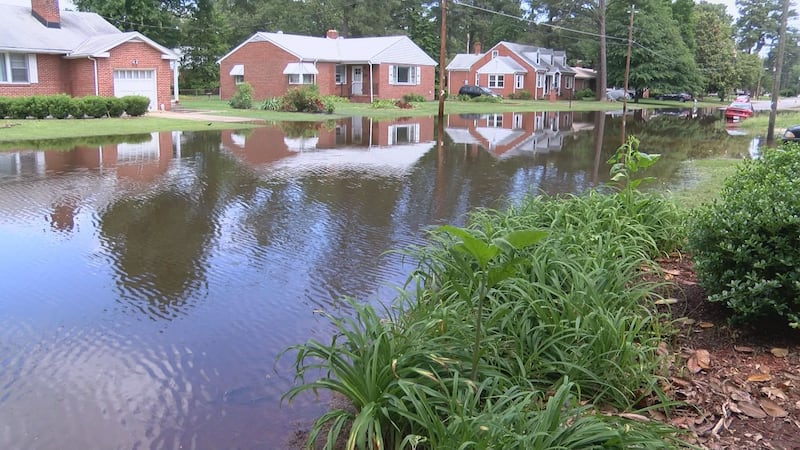 Updated: May. 20, 2018 at 8:21 PM EDT
HENRICO, VA (WWBT) - The sun may have been out for most of the day on Sunday, but water levels still remained high in much of the Greater Richmond area after days of heavy rain.
In Henrico's East End, some yards have been converted into swamps from the high waters. Some neighbors say their foundations are permanently damaged from all the flooding.
A couple of streets down, neighbors are facing another issue.
Their roads have been turned into a virtual river. The debris line is a clear indication of just how high the water was. At its shallowest end, the water is a foot and a half deep.
Even though the water is receding in some neighborhoods, some people were trapped in their homes for days.
In his 92 years of life, Ricker Roe says he has never experienced flooding like this and did not want to risk going out.
"I have been out of the house," said Roe, who has been stuck in his home since Friday. "I'm not saying I couldn't have if an emergency came up, but I had enough in my refrigerator to keep me going."
Curtis West lives up the street and says this the worst flooding he's seen since Hurricane Gaston back in 2004.
"It was up to our line. All of that was six to 10 inches of water on the road," said West, who is urging folks not risk the driving through the waters if you do not have to.
"When you're dealing with something like this, be careful. Don't be foolish, and don't become a thrill seeker," said West.
Edward Cook says he lost a car once before in a neighborhood flood and that his son nearly lost his in this one.
"I had a car sitting in the ditch line and when we got up the next morning, the water was already up to the dashboard," said Cook. "It got about this much water in the floorboard before he moved it."
He says that his neighborhood keeps flooding because the system is clogged and that the county has not been out yet to clear it.
Now he hopes the county will come out soon to help fix the issue.
"If the county is aware of our drainage system, hopefully, they will do something," said Cook.
Copyright 2018 WWBT NBC12. All rights reserved.