City council votes down cigarette tax proposal
Published: Apr. 23, 2018 at 12:18 AM EDT
|
Updated: Apr. 23, 2018 at 10:34 PM EDT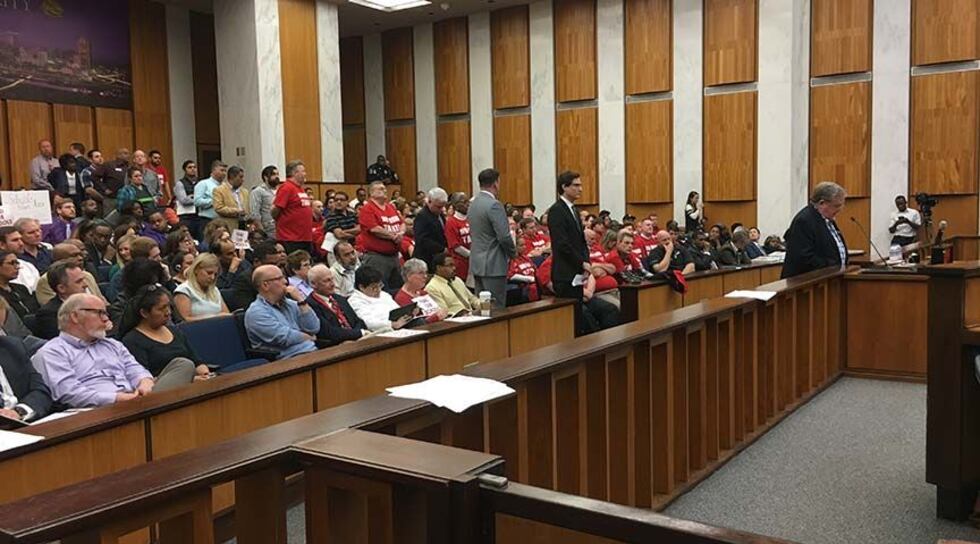 RICHMOND, VA (WWBT) - Richmond City Council voted down a proposal to tax cigarettes on Monday.
The proposal was for an 80-cent tax per pack, and the money would be used for maintenance of school facilities.
Council member Parker Agelasto introduced the bill and estimates that the 80-cent tax per pack would generate $5.3 million annually for the maintenance of city public schools. He said RPS is holding the city back from becoming a great city, because the conditions of the schools keep people from coming and cause people to leave.
Mamie Taylor, president of the Richmond Coalition of Quality Education, made it clear that she's happy with any endeavor to improve the condition of public schools in the city.
"I truly appreciate our elected officials for attempting to provide a revenue stream for Richmond Public Schools," said Taylor.
But when it comes to the proposed cigarette tax, Taylor says she wants more assurances before she can support the new tax.
"What I feel is equally as important is that when our elected officials are drafting the bill, is that they provide some guarantees that the monies that are generated go directly to the schools indefinitely," said Taylor.
While the revenue generated from the meals tax increase will go towards the construction of new schools in Richmond, Agelasto said in a statement that the ordinance clearly states that the revenue generated from a cigarette tax shall be credited to a special reserve to provide for capital maintenance, repair, and improvement of public schools in the city.
While the law could be amended just like any other existing law, that is not the intent.
Taylor believes that council should take its time to ensure the language in any new tax proposal is specific towards supporting Richmond Public Schools exclusively.
"So whether or not they want to use the cigarettes tax, the meals tax real estate tax, whatever it may be... I think that it is important for their constituency that there are some guarantees that things won't change from year to year in reallocating funds that initially start off as being specifically for the school system," said Taylor.
James Hunt, who has smoked for the last 15 years, says he's indifferent about the cigarette tax. He doesn't necessarily disagree with it, especially if it helps the children at RPS.
"It is what it is. I just know every time I look around cigarettes are getting hiked up in taxes," Hunt said.
He also said in regards to the tax helping students, "I think it's a good thing ... you should always help the schools out."
Several Richmond residents agree with the cigarette tax.
"I think it's a pretty well-known fact that public schools in Richmond are decaying, depreciating pretty fast so if it's a couple cents here and there I think it's decent money we can put to good use," said Cheng Lee.

"More money on luxuries I guess isn't ideal but it is still a luxury and we need to keep in mind that we're one city, one state and one nation and sometimes you have to chip in more to help other people," said Bonnie O'Hara.
Copyright 2018 WWBT NBC12. All rights reserved.