Man suffers burns on 10% of body rescuing pet from two-alarm house fire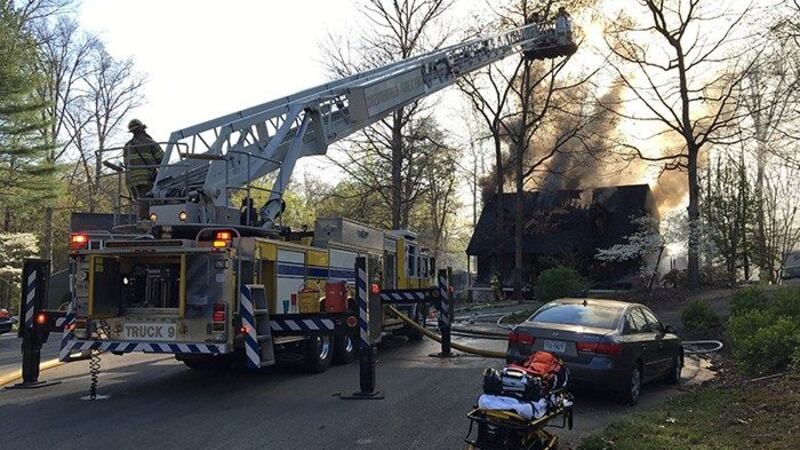 Published: Apr. 20, 2018 at 12:18 PM EDT
|
Updated: Apr. 24, 2018 at 11:26 AM EDT
CHESTERFIELD, VA (WWBT) - A Chesterfield man continues to recover in the hospital after rushing into a burning home to save his four pets.
"I can still see the window breaking, and Trip going through the window, and I can hear the sounds of the dogs," explained Gregory Graham, a family friend.
Looking at what's barely left of the home on Monday, Graham says he is amazed by Trip Anderson's strength and bravery.
"He took the fire extinguisher and he used it as a ram to break the window. It broke the window, but not good enough, at that point he used his body, and impaled his whole chest and body through the window and he did," said Graham.
It was on Babbler Lane in the Foxberry subdivision on April 20 that Graham first saw smoke coming from the home Trip Anderson shared with his father Johnny.
The house going up in flames did not stop Trip from rushing inside. He wanted to save his two dogs, Copper and Dixie and two cats, Kiki and Weezy.
It eventually took Chesterfield firefighters over an hour to get the massive fire under control. Neighbors could hear an explosion as the fire spread to the deck of a neighbor's home. Relatives said there was oxygen in the home, as well as ammunition.
"He went in the third time and when he came out the third time, you could see the heat on his body. You could see he was charred," said Graham.
Trip was able to get Dixie out to safety, but despite his best efforts, he was unable to get the other three pets out of the home. Graham says they had to convince Trip not go to back inside of the burning home after three attempts.
"I watched that man give it everything he had," said Graham. "He did save one dog, and that counts."
Trip is now recovering at VCU Medical Center. Graham says 10 percent of his body has been burned, and he was injured from breaking the window.
Family and friends started an online fundraiser, also asking for donations of clothing and other goods. Those items can be taken to Commonwealth Chapel on 3505 Old Hundred Road in Midlothian and Friendship Baptist Church on 5200 Newby's Bridge Road.
The Anderson's home was originally built by Johnny Anderson, Trip's father.
"I want it to be known that Trip Anderson is the bravest man I've ever seen in my life, because he put his life on the line for a dog," said Graham.
Copyright 2018 WWBT NBC12. All rights reserved.