'I thought my family was dead': Amherst County recovering from tornado
Published: Apr. 18, 2018 at 2:52 AM EDT
|
Updated: Apr. 18, 2018 at 12:31 PM EDT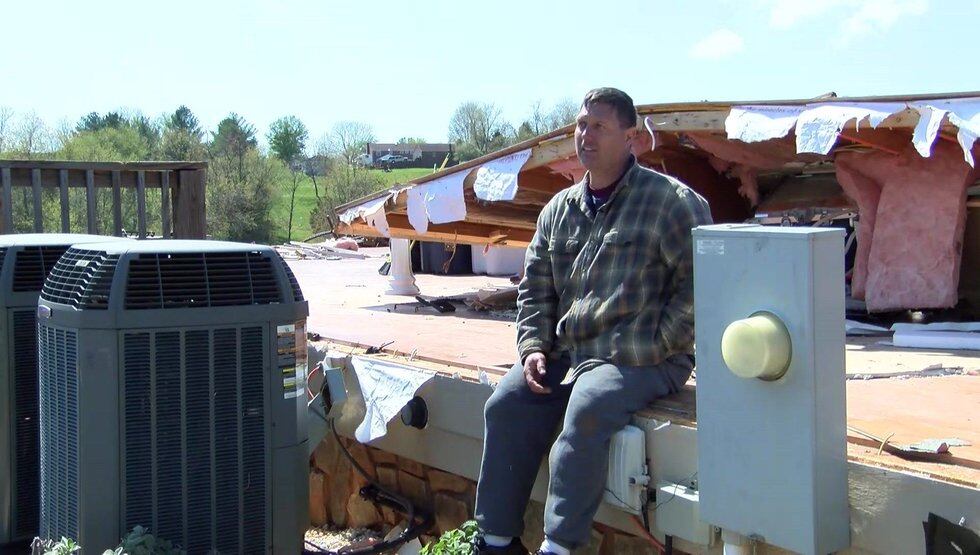 AMHERST, VA (WWBT) - Communities in Virginia are still cleaning up after tornadoes sweep through parts of the state. Sunday's EF3 tornado damaged nearly 150 buildings in Amherst County - causing an estimated $3.6 million of damage.
(Note: the National Weather Service upgraded the tornado from an EF2 to an EF3 on Wednesday.)
When you see the devastation, it's hard to believe no one was killed. Spaces that used to be a bedroom are now open air, and splattered all over the side of the house is mud and insulation. Somehow, everyone made it out of here alive.
The Cooper family is sorting through what's left. Michael says when it hit, he was in the basement. His wife, Shelley, and their son were upstairs. He frantically raced to find them.
"They were trying to get in the closet here, which is behind me," said Michael Cooper.
Shelley Cooper couldn't get the door to budge.
"No matter how hard I tugged, I could not get this door to open, so at that point I just throw him to the ground and I get on top of him and I reach for whatever I had available, and it happened to be this rug that's on the floor now and just decided to ride it out," said Shelley Cooper.
Amazing it wouldn't open - luckily it didn't. Long pieces of two-by-four blasted through the wall and would have likely impaled anyone in that closet.
"That's kinda the way things happen, isn't it?" said Michael Cooper.
Assessing what they lost, Michael Cooper looked into one room - with the wall ripped away, he could see the Childress family home.
"I could see the neighbor's house, which was pretty much destroyed," he pointed down the road.
"The first thing I can remember thinking was, 'oh my God, my wife and my kid are dead,'" David Childress said, sitting on the side of his house.
Two days ago, there would have been the outer wall to a beautiful, two-story home where he was sitting.
Minutes before the tornado hit here, Childress rushed to pick up one of his sons from Bible study. When they pulled back up to the house, they saw what little was left of it. Childress' wife and youngest were inside.
"How do you survive that? But by the grace of God, they did," said Childress.
His wife suffered a concussion, and his son has multiple broken bones. Childress looked around and took comfort in knowing they could build another home and said, "I can't replace my wife. I can't replace my kid."
A man of faith, David has no doubt why his family was spared. Nor, why now, his family is so much bigger than it was before this tragedy.
"The community is part of our family. When you see all these people that are here today, ya know, it's so uplifting," said Childress.
Wednesday morning, the county will open up an opportunity for anyone ages 16 and up who would like to volunteer to help these families rebuild.
Copyright 2018 WWBT NBC12. All rights reserved.