Apartment owners vow 'unacceptable' trash piles won't happen again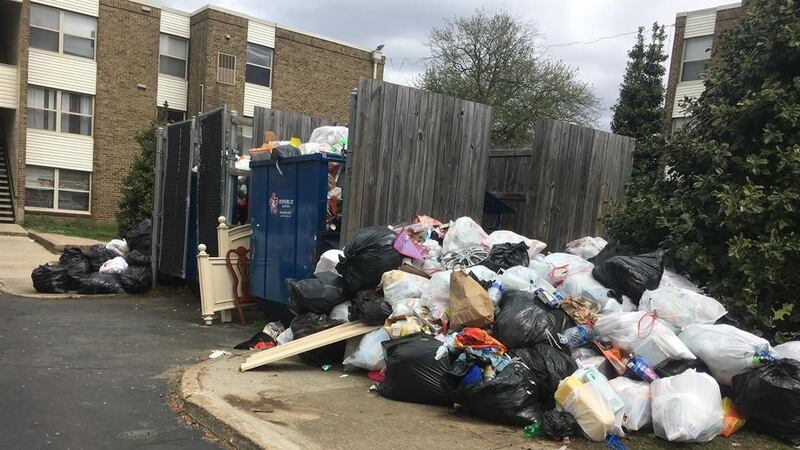 Updated: Apr. 17, 2018 at 6:20 PM EDT
RICHMOND, VA (WWBT) - Residents at the former Midlothian Village Apartments in Richmond's southside say trash has been piling up for weeks, causing unsanitary conditions, rodent infestations and other issues.
A representative from the new property owners, Community Preservation Partners based in California, said there was a mix-up with a payment invoice to the trash removal company, which caused the delay.
Community Preservation Partners Representative Seth Gellis said that staff would work to set up an emergency trash pickup, which took place at 2 p.m. Tuesday afternoon.
In an email Gellis wrote:
The garbage issue is an unfortunate breakdown in procedure at the site that resulted in the delayed processing of the invoice and the interruption in service. It is unacceptable and management assures me that systems have been put in place to correct the breakdown so that it does not happen again. The residents deserve better than we did here, and we will continue to strive to show them the positive changes that we intend to make at the property and work harder at earning their trust in us.

We're also continuing our efforts to work with the residents so that they feel comfortable escalating any issue they are having at the site, first to onsite management, and then to Edgewood's corporate office should problems not be resolved quickly.
"Nobody likes living like this. We're humans, but we're not treated like humans," said one mother at the complex, who asked not to be identified. "It's just nasty. It stinks. We have kids. The kids can't really come out because there is garbage flying everywhere."
Another woman brought out a bucket filled with six dead rats, a problem she says has been exacerbated by the trash.
Multiple neighbors say they contacted management when they first noticed the problem, yet nothing was done.
"I talked to them when I first started to noticed the trash building up, and that was two weeks ago," continued Best.
"I called management... Nobody's doing anything," said the mother.
Community Preservation Partners says major renovations are set to start in July and be completed by August of 2019. They say critical issues are already being addressed, including security upgrades and wi-fi installation.
Residents at the Section 8 housing complex have complained for years of dilapidated conditions. Neighbors say the change in management had sparked hope.
There is still some trash left on the property that needs to be removed. An employee for the garbage company said the garbage needs to be put in the bin, so it can then be loaded into the truck.
Copyright 2018 WWBT NBC12. All rights reserved.