Blind woman to run in Monument Avenue 10K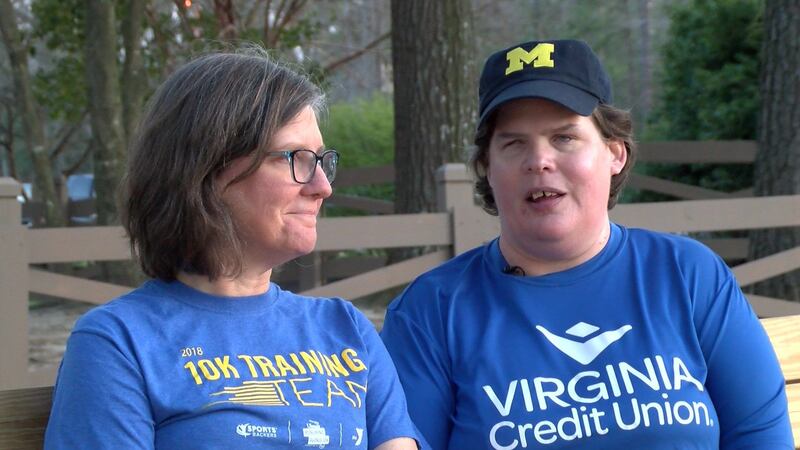 Updated: Apr. 11, 2018 at 11:36 PM EDT
CHESTERFIELD, VA (WWBT) - A Chesterfield woman is overcoming the odds to participate in her first Monument Avenue 10K this Saturday. A long-time friend has helped her train to get ready.
Thousands of people are eager to get their race packets for the big race on Saturday, but maybe no one is more eager than Jenny Piper - a first time participant who, several months ago, would've never thought this would be possible.
"Good thing I did some stretching," Piper said through a laugh.
She walked around Rockwood Park with her race trainer and friend, Maureen Dingus. Dingus has been running races for years, but Piper is stepping into her first 10K this Saturday at the Ukrop's Monument Avenue 10K.
"The feeling of that we've actually done this together is just going to be incredible," Dingus said.
Piper needs Dingus to compete; she has fibromyalgia and she's been blind for more than 20 years.
"On May 20, 1991, they actually removed my eye, because I was just in so much pain and I didn't want to live on pain meds," said Piper.
Dingus saw guides helping visually-impaired athletes in a past race.
"I called Jenny and I was telling her about it, and that's when she said 'gosh, I'd like to do that, that'd be so cool,'" said Dingus.
Since December, Rockwood Park has been their arena.
"We are doing what's called the sighted-guide technique," Piper  explained. "You kinda walk slightly behind that person so you can kinda feel their steps and what's coming up."
Dingus guides her over the terrain and any other obstacle.
"The speedbumps, we count steps," said Piper.
"It took us a little while to get that timing down," said Dingus.
They're ready to take on 6.2 miles together.
"I'm really really looking forward to it, we've trained really really hard," said Piper. "I couldn't have done it without Maureen."
"It's an emotional tie too, because I know that this is really important to her. It's also important to me, and it's so much different than anything I've ever done," said Dingus.
Dingus will lead the way, but witnessing Piper's drive, it is hard to say who is guiding who.
"Are you gonna hurt? Sometimes you will, but you've gotta work through it, so you can go further and achieve your goal," said Piper.
You can pick your bib and race packet up at Richmond Raceway from 3 p.m. to 9 p.m. Thursday, or on Friday from 11 a.m. to 9 p.m.
Copyright 2018 WWBT NBC12. All rights reserved.