Virginia motorcyclist deaths increased sharply in 2017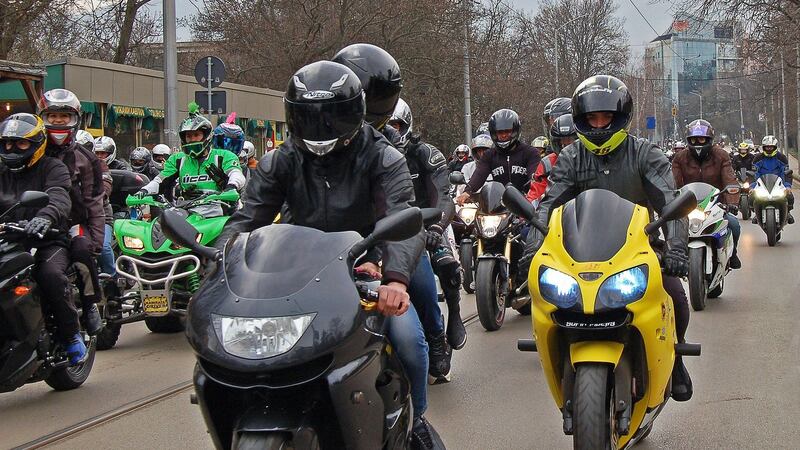 Published: Apr. 4, 2018 at 12:38 PM EDT
|
Updated: Apr. 6, 2018 at 1:55 PM EDT
(WWBT) - More than 100 motorcyclists died on Virginia roads in 2017, making history as the highest in the state in a decade.
The Virginia Department of Motor Vehicles released statistics Wednesday for the 2017 year. One-hundred-and-seven motorcyclists were killed, compared to 72 in 2016 – a nearly 50 percent increase. The previous high was in 2011 when there were 90.
"We are working every day to reduce traffic crashes and save lives on Virginia roadways," said Secretary of Transportation Shannon Valentine. "DMV, VDOT, Public Safety and Community Partners are urging motorcyclists and motorists to give their full attention to driving and following the rules of the road."
"Wow, that's sad," said motorcyclist Paul Cabral. "There's a lot of issues with cars out there not paying attention."
Cabral has ridden motorcycles for roughly 35 years. He said the nearly 50 percent increase in motorcycle deaths is not a good sign, despite the number of registered motorcycles decreasing by nearly 2,000.
"In 2016 there were 211,620 registered motorcycles in the state," said DMV spokeswoman Brandy Brubaker. "In 2017 there were 209,774."
"There's no courtesy for drivers period on the road," Cabral said. "It doesn't matter what your driving. It's 'I want that spot and I'm going to take it now'. No turn signals, no anything. They just see an opening and they take it."
"I try to take precautions when I ride, but I know every time you get on [it] anybody can do you in, or you can do it yourself," said another motorcyclist Eric Waugh.
Waugh lost his best friend Will Toler in a motorcycle accident in 2014.
"He had been driving for years," Waugh said. "He drag raced bikes years ago. He tended to be a safe driver."
On March 30, an Ashland Harley Davidson employee died in a motorcycle accident in Spotsylvania. Employees said Stefen Weckauf, 43, had just started there and loved to ride.
Lieutenant Charles Carey with the Spotsylvania Sheriff's Office said the deadly accident happened on Plank Road. He said it's unknown if any other vehicle was involved.
"[You've got to] keep your eyes out for them," Waugh said. "They're hard to see and they move fast. Anytime I see bike you have to imagine that bike is going to change lanes and pass you or slow down to make a turn."
Chesterfield County tied for the most deaths of any jurisdiction with six.
Also reporting six deaths were Newport News, Virginia Beach and Fairfax County.
Henrico County recorded two motorcyclist deaths. Richmond, Hanover County and Powhatan County all recorded one.
"When we go out on a motorcycle or a truck it's to come home alive every day," Cabral said.
Of the immediate cities in the greater Richmond area, the DMV reports the following statistics for 2017:
Colonial Heights City: 6 crashes, 0 deaths, 5 motorcycle  injuries

Hopewell City: 4 crashes, 0 deaths, 4 motorcycle injuries

Petersburg City: 10 crashes, 0 deaths, 10 motorcycle injuries

Richmond City: 47 crashes, 1 death, 39 motorcycle injuries
Statistics for counties in central Virginia is as follows:
Amelia County: 2 crashes, 0 deaths, 1 motorcycle injury

Caroline County: 13 crashes, 0 deaths, 14 motorcycle injuries

Charles City County: 5 crashes, 0 deaths, 7 motorcycle injuries

Chesterfield County: 71 crashes, 6 deaths, 48 motorcycle injuries

Cumberland County: 1 crash, 0 deaths, 1 motorcycle injury

Dinwiddie County: 5 crashes, 0 deaths, 4 motorcycle injuries

Fluvanna County: 7 crashes, 0 deaths, 6 motorcycle injuries

Goochland County: 15 crashes, 1 deaths, 12 motorcycle injuries

Hanover County: 26 crashes, 1 deaths, 23 motorcycle injuries

Henrico County: 59 crashes, 2 deaths, 43 motorcycle injuries

King William County: 5 crashes, 0 deaths, 6 motorcycle injuries

Louisa County: 7 crashes, 0 deaths, 6 motorcycle injuries

Middlesex County: 2 crashes, 0 deaths, 2 motorcycle injuries

New Kent County: 11 crashes, 2 deaths, 8 motorcycle injuries

Nottoway County: 0 crashes, 0 deaths, 0 motorcycle injuries

Powhatan County: 6 crashes, 1 deaths, 6 motorcycle injuries

Prince George: 11 crashes, 0 deaths, 10 motorcycle injuries

Richmond County: 0 crashes, 0 deaths, 0 motorcycle injuries

Spotsylvania County: 46 crashes, 3 deaths, 36 motorcycle injuries

Stafford County: 53 crashes, 1 deaths, 41 motorcycle injuries

Sussex County: 1 crash, 0 deaths, 1 motorcycle injuries
"A large number of motorcycle crashes occur when the motorcyclist is traveling too fast and loses control of his bike," said DMV Commissioner Richard D. Holcomb, the Governor's Highway Safety Representative. "Following a safe speed is a simple solution for these types of crashes. Other crashes can occur when a person driving a car, for example, doesn't see the motorcyclist because of inattention or a blind spot."
Virginia Beach and Fairfax County far outpaced the rest of the state with more than 100 crashes and injuries. Virginia Beach reported 134 crashes and 106 injuries while Fairfax County reported 148 crashes and 113 injuries.
Brubaker said these statistics are solely for motorcycles and do not include mopeds or scooters.
The DMV has also offered safety tips for drivers on the roadways.
Motorcycle Safety Tips:
Always wear safety equipment. Wear helmets and other protective clothing such as gloves goggles and a riding jacket. Motorcyclists and their passengers must wear helmets in Virginia. A rider without a helmet is 40 percent more likely to suffer a fatal head injury than a rider wearing a helmet.
"I see a lot of guys out here in shorts, tank tops and sneakers," Cabral said. "That hurts. Your skin comes off like that. Wear something leather, good protection."
Remain alert day and night. Four-four percent of motorcyclist fatalities in 2017 occurred between noon and 6 p.m.
Travel at a safe speed. Always obey posted speed limits and reduce speed in inclement weather. Speeding and failure to maintain control of the motorcycles contribute to a high percentage of motorcyclists' deaths.
"Seventy miles per hour on a motorcycle is 40 miles per hour in a car," Cabral said. "I know it sounds crazy but you do not feel like you're going 70 miles per hour.
Never operate a motorcycle after consuming alcohol. Forty percent of all single-vehicle motorcycles fatalities in 2017 involved a motorcyclist with a blood alcohol limit above the legal limit.
Tips for Other Motorists:
Look for motorcyclists. In more than half of all crashed involving motorcycles and automobiles, the automobile driver didn't see the motorcycle until it was too late.
"I've driven overseas before, I've been to Japan, Scotland, and the amount of under-trained drivers that are on the streets amazes me," Waugh said. "I see it every day. I don't know if it's ignorance, or they don't seem to care as much. If they had a retest every three to five years for every licensed driver on the road I think it would increase the awareness."
Check your blind spots. Always check for motorcycles before you pull out, change lanes, turn, back up or proceed through an intersection.
Anticipate the motorcyclist's movements. A slight change or debris on the road surface can be a major obstacle for motorcyclists so expect them to make sudden moves within their lane. Never tailgate a motorcycle or any other vehicle.
Statewide, there were 2,119 crashes involving motorcycles with 1,794 injuries.
A full breakdown by jurisdiction can be found here.
You can also get a motorcycle self-assessment with Virginia's Ride 2 Save Lives. Click here for more information.
Copyright 2018 WWBT NBC12. All rights reserved.