L.C. Bird evacuated after bomb threat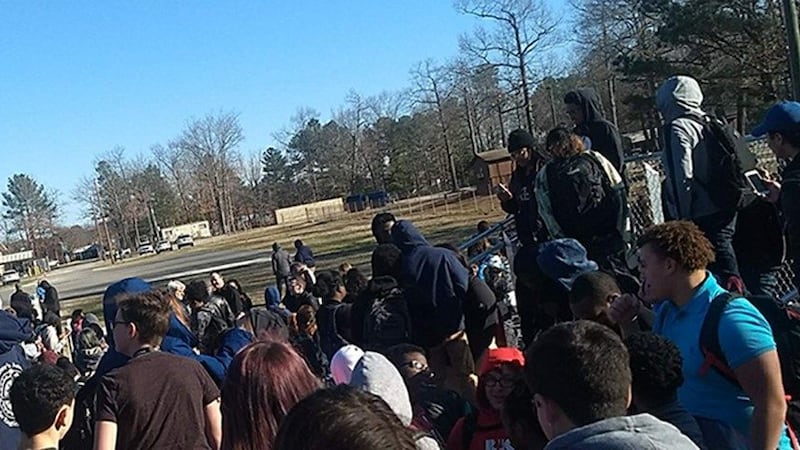 Published: Mar. 14, 2018 at 1:35 PM EDT
|
Updated: Mar. 14, 2018 at 4:16 PM EDT
CHESTERFIELD, VA (WWBT) - L.C. Bird High School was evacuated Wednesday morning due to a bomb threat, but all students are safe.
The school says it received a threatening phone call.
Students were relocated to two locations and the school was searched.
During the evacuation, police say that someone was saying a name that sounded like "get on the ground" and at the same time chairs fell over and scared the students.
The students then fled the building.
School officials say information has been sent to parents on picking up their children.
Two messages were sent to Bird High School families. The first message was sent by the school division:
Parents, This is Chesterfield County Public Schools writing with an update on behalf of Bird High School.  Earlier this morning, Bird High School received a phone call that was threatening in nature. As a result, police requested that we relocate students to a different area on campus and to nearby areas while the building is searched. Bird High students have been relocated and are safe.  We are asking parents not to respond to school in order to allow police to do their job. However, if you insist on picking up your child early, you should report to the Chesterfield Career and Technical Center @ Courthouse.  Bird High officials will provide an update as soon as available.
The second message was sent by the principal:
Hello, this is Laura Hebert, principal of Bird High School, with an important update.  First, police have investigated a threat against the school and have deemed that it not be credible.  Students are back in class, and clamoring for lunch, which will be served beginning at 11:45.  I want to thank our students for following our directions, responding quickly and exhibiting the behavior we expect from our Skyhawks.  I also want to thank the many parents that have been supportive and helpful during this time.  If you or your child have any information about the threat to our school made earlier today, please share it with our administrative team.

Again, many thanks to our students for overcoming this distraction to our work. And, thank you for entrusting them to our care. Working together, we will continue to provide a safe, supportive and nurturing learning environment.
Police also say a threat on Wednesday at James River High School was not credible.
Police say a threatening message was found written on a bathroom wall.
Copyright 2018 WWBT NBC12. All rights reserved.