Teen's dog stabbed after allegedly attacking another dog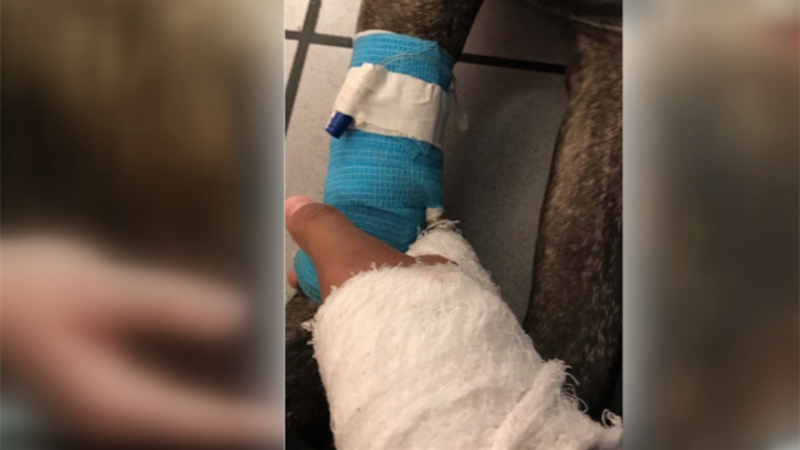 Published: Jan. 10, 2018 at 2:51 AM EST
|
Updated: Jan. 10, 2018 at 6:38 AM EST
CHESTERFIELD, VA (WWBT) - A 16-year-old Chesterfield girl is heartbroken after she says another pet owner nearly stabbed her dog to death after her dog stormed out of her family's home.
Four-year-old Oreo is recovering at home now after having to be rushed into surgery. Chesterfield Police are investigating whether the person who stabbed him went too far. No one has been charged in this case.
During the holidays, Oreo was as joyful as could be. Flash forward to the second day of the new year.
"He just sits in the house now. He doesn't move. He doesn't' want to eat anymore. It's just crazy," said 16-year-old Anaya Jones-Ball.
That's because he's been through a lot. Jones says Oreo managed to get out of her family's apartment at Chesterfield Village and ran towards a nearby dog.
The dogs began fighting. Police say the person walking the other dog yelled for help. That's when someone from the other pet owner's home came out with a knife and stabbed Oreo.
"I was holding him by his neck and his mouth trying to make sure he didn't clamp on to the other dog. She was like, 'I'm going to kill him and she just kept slashing,'" Jones-Ball said.
"You have the same right to defend your pet from another animal as you have to defend yourself or another person from another person," said NBC12 legal analyst Steve Benjamin.
He says the force you use to defend your pet has to be reasonable and necessary.
"If it appears somebody is going to shoot your dog, you cannot shoot that person. If that person was going to shoot you or another person, then yes, you could use deadly force," Benjamin added.
In this case, the teen believes the knife-wielding woman could have responded differently.
"I think it was very extreme for her just to come out and start stabbing. If we had brought him in the house, he would have bled to death," she said.
Initially, the vet wanted to amputate Oreo's leg but realized he didn't have to. The teen works and is helping pay for the dog's mounting medical bills.
Chesterfield Police say this case remains under investigation.
Copyright 2018 WWBT NBC12. All rights reserved.