I-95/Temple Avenue interchange project finished in Colonial Heights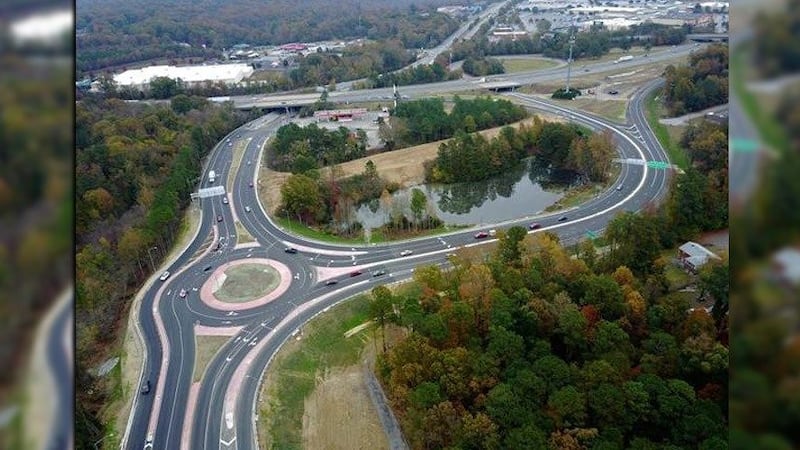 Updated: Nov. 15, 2017 at 1:43 PM EST
COLONIAL HEIGHTS, VA (WWBT) - The Interstate 95/Temple Avenue interchange project was finally completed on Friday, Nov. 10, and came within the $20 million budget, according to the Virginia Department of Transportation (VDOT).
VDOT says the project, which included replacing an intersection with a roundabout and lengthening the interstate interchange ramps, was built due to extensive backups and several crashes in the area. The design was chosen to address traffic flow concerns.
"The multilane roundabout features three bypass lanes at each approach that will allow traffic in those lanes to travel through the area without entering the roundabout intersection. The project also features new lengthened ramps which will remove the merge point from the ramps at I-95 north and south, allow for vehicles to easily transition from interstate speeds to city limit speeds, improve overall visibility and better accommodate increasing vehicle capacity," VDOT said in a press release.
VDOT also says the project helps with air pollution, fuel consumption, and overall maintenance costs.
"Building a brand new interstate interchange and ramps while keeping traffic moving through the area was a challenge we were eager to meet," said Shane Mann, P.E., VDOT Richmond District Construction Engineer. "We were able to complete most of the work off-road, with minimal traffic impacts. The new intersection will allow the 30,000 vehicles traveling through this area each day a smoother and safer ride."
"Solid project management, quality construction and close coordination with the local community have been key to this project's success," said Bart Thrasher, P.E., Richmond District Engineer, "The entire project team has been committed to completing this project with the next few decades in mind."
While driving through a roundabout, VDOT issued these recommendations:
Follow signs and pavement markings for your safety.

Slow down when approaching the roundabout.

Yield to traffic already in the roundabout.

As you enter the roundabout, keep right and drive in the counter-clockwise direction.

Do not turn left when entering a roundabout.

Do not change lanes or stop when in the roundabout.

Use a turn signal and exit the roundabout with caution.
Copyright 2017 WWBT NBC12. All rights reserved