Herring defeats Adams for attorney general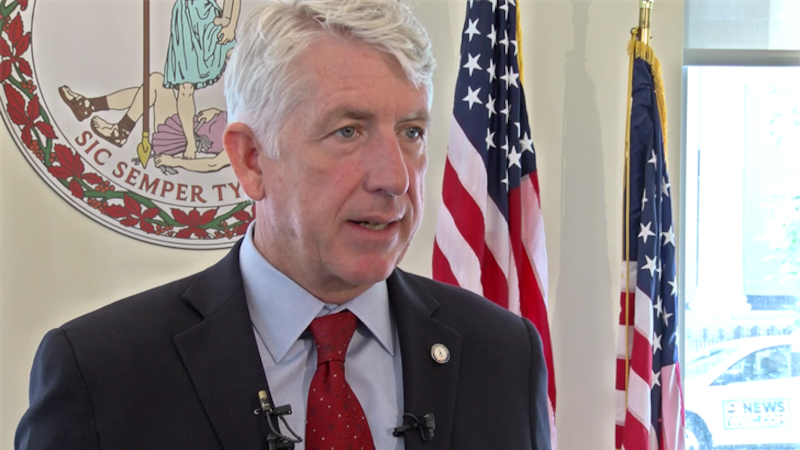 Published: Nov. 7, 2017 at 7:35 PM EST
|
Updated: Nov. 7, 2017 at 11:34 PM EST
RICHMOND, VA (WWBT) - Democrat Mark Herring will continue to be Virginia's attorney general after beating out Republican John Adams on Tuesday.
Adams conceded the race at 8:50 p.m.
"I want to congratulate Mark on his re-election, and you know I want to thank everyone in this room," said Adams in his concession speech. "You allowed a guy who had never ran for office before, but had very solid convictions and beliefs about the role of law in our society, to jump into politics for the first time."
Herring won the race with 53 percent of the vote.
"I could not be more excited to serve as part of an incredible team in Richmond alongside my great friends," Herring said. "Together, we will work to fulfill the promise of our great Commonwealth."
The race had been close leading up to Election Day, with Herring having a 4-point lead over Adams in the last poll.
"Virginians sent an unmistakable message that will be heard across this nation," Herring said. "I am so honored that you have chosen me to serve as your attorney general for another four years."
Ahead of Tuesday's election, Herring said he's most proud of his work fighting the opioid epidemic in the past four years.
"I'm also part of a 41-state attorneys general investigation into the pharmaceutical manufacturers to see if there have been any unlawful practices with marketing or distribution," Herring added.
He recouped tens of millions of dollars fighting Medicaid fraud and consumer scams. On inclusiveness, he challenged Virginia's ban on same-sex marriage and President Trump's first travel ban.
"When the President takes actions that cross legal boundaries and constitutional lines and Virginians are hurt, I won't hesitate to stand up and protect Virginians from that," said Herring.
Herring also sued the Trump administration for its move to end subsidies to insurance companies, and he says he'll keep fighting for Virginians' access to Obamacare.
"They're worried pre-existing conditions are no longer going to be covered. They're worried co-pays and higher deductibles are going to come back. As attorney general, I'm going to continue to fight for their healthcare," Herring said.
For more election results, download the NBC12 News app.
Copyright 2017 WWBT NBC12. All rights reserved.