Call 12 volunteer rides out Hurricane Irma in St. Thomas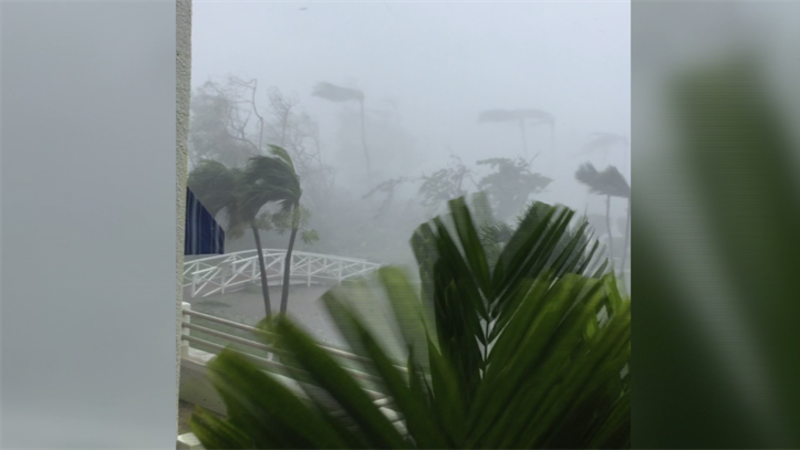 Updated: Sep. 19, 2017 at 11:54 PM EDT
(WWBT) - As St. Thomas braces for what could be another catastrophic hit, we are getting an eyewitness account from a Chesterfield woman who was on the island during Irma.
Our Call 12 volunteer, Christi Norton, says she didn't know if she and her husband would make it out alive. The two were celebrating their 27th wedding anniversary when the monster storm came ashore.
hey hid in the hallway area of the kitchen and bathroom in their hotel room, unsure if they would live. She says the storm lasted several hours and it was horrifying.
Norton says she can't describe the sound.  It was just loud. The wind and rain were so loud they couldn't hear each other talk. They just held on.
"I was terrified. The windows and the walls when they started shaking and our doors flew open. It was just a horrifying experience. We didn't know if we were going to make it out alive. It was so loud and the winds were so strong. I didn't know if our roof was going to go or if our windows were going to blow out. I just didn't know what was going to happen next," said Norton.
Norton says the most violent part of the storm was when the eyewall hit. She was able to record some of it during the storm which lasted five to six hours.
"It's completely white outside and the wind and rain are just really loud and really strong. It's white because of all the wind and the rain. You just can't see far.  I've never seen anything like that before in my life," said Norton.
When they were able to go out debris was everywhere and heartbreaking images of homes and buildings smashed like kids toys.
"While we were leaving we could see a whole lot of damage to the buildings and homes. It was just destruction everywhere. There were some standing and some totally destroyed. You could see completely inside of some houses. The roof lifted off of them, walls down. We were fortunate at our resort our walls withstood and the roofs withstood," said Norton.
Norton is back in Call 12 now. They were evacuated by ferry about a week after Irma hit to Puerto Rico and eventually took a flight home to Chesterfield.
"My prayer for these people is for them to be able to rebuild their homes and rebuild their livelihood. They want the islands restored and to be beautiful like they were before," said Norton.
Thankful to be back home, Norton can't stop thinking of the people in St. Thomas. She's urging people here to continue supporting hurricane relief efforts so the beautiful Islands can be restored. We are glad to have her back safe and in Call12.
Copyright 2017 WWBT NBC12. All rights reserved.