Police investigate vandalism of J.E.B. Stuart statue on Monument Avenue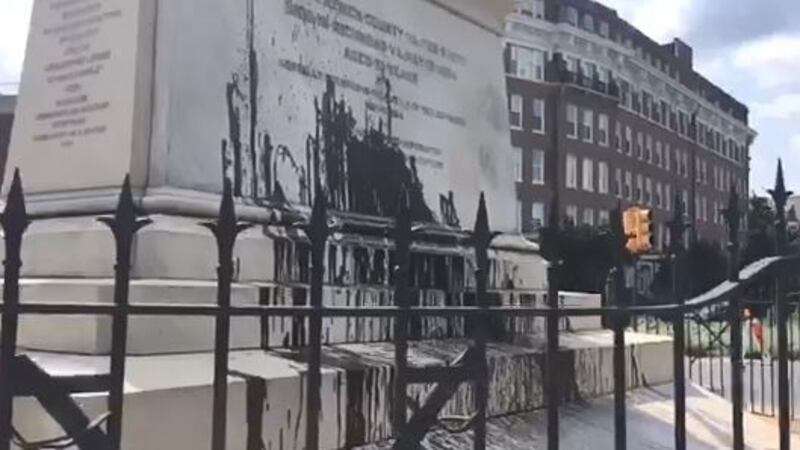 Published: Aug. 26, 2017 at 5:28 PM EDT
|
Updated: Aug. 28, 2017 at 6:55 AM EDT
RICHMOND, VA (WWBT) - Richmond Police are looking for the people who poured pine tar on the J.E.B Stuart Monument.
The confederate statue stands at the intersection of Lombardy Street and Monument Avenue.  Crews worked for hours today, to clean the tar that covered the statue.
The sight drew a crowd.
"I think that it's a very visual representation of what these monuments bring up especially right now after the rally in Charlottesville," said Liana Mensh, who lives in Richmond.  "This is not an acceptable memorial in our city."
Eric Parker and Floyd Balley rode their motorcyles from Hampton and are visiting Monument Avenue for the first time. "Before I was like tear them down," says Parker. But he said after riding up the street he has changed his mind.  "Just the way they look. And the war happened here, so the people of Richmond they felt it. They're direct descendents of them, so I kind of can see how they would want them to stay up."
"It's a toss up whether they should take them down or not," said Floyd Balley.  "I really think it depends on the way the governing body treats the black folk in this town."
Richmond Police say officers were on patrol when they were told about the vandalism around 7 a.m Saturday morning. The pro-Confederate monuments group says their monument patrols spotted it.
A private company who has the materials and equipment strong enough to get the substance off was hired to do the cleanup.
Richmond Mayor Lever Stoney's office released this statement: "Vandalism is a crime no matter where it takes place, and the individual or individuals responsible should be prosecuted to the fullest extent of the law."
If the damage to the monument is more than $1,000, it's a felony.
Meanwhile, Stoney has postponed the next Monument Avenue commission meeting because of safety concerns following the violent events in Charlottesville.
The Virginia Flaggers say they're going to step up their monument patrols in light of this vandalism.
Copyright 2017 WWBT NBC12. All rights reserved