Charlottesville witness: 'It looked how it looks after a terrorist attack'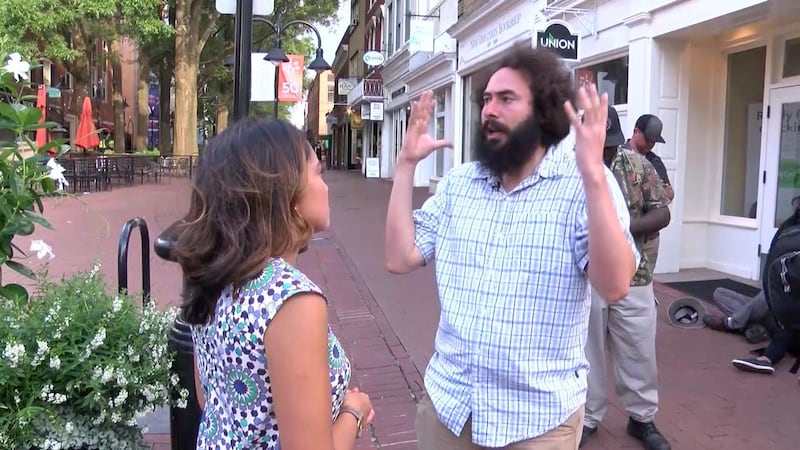 Published: Aug. 13, 2017 at 4:00 AM EDT
|
Updated: Aug. 13, 2017 at 9:23 AM EDT
CHARLOTTESVILLE, VA (WWBT) - Witnesses described to NBC12 the horror they saw when a car plowed into protesters in Charlottesville.
It happened on Water and 4th streets. Nick McCarthy was in the crowd.
"I remember seeing a girl horribly hurt. She didn't get up," he said. "People were trying to pick her up. He reversed, and I thought he was leaving. He had done what he wanted to do...but no. He was just leaving to get more momentum, so he could ram more people."
And what McCarthy saw is something this Charlottesville native will not forget.
"There was blood in the streets," says McCarthy. "It didn't seem like Charlottesville. There was someone's glass lenses. There was someone's shoe. It looked how it looks after a terrorist attack."
One person is dead. 19 others are injured.
Police say 20-year-old James Alex Fields Jr. was behind the wheel of that car. A neighbor shot video, believed to show Fields' arrest at Monticello and Carlton Streets. A forensic unit was seen searching the car. He's now facing several charges, including suspicion of second-degree murder and malicious wounding. Fields is from Ohio, according to police.
The crash happened after a local state of emergency was declared, halting the white nationalist's "Unite the Right" rally moments before it was set to begin. But by that point, the violence had already begun.
For people who live here, they say this is not the small town they know.
UVA Health System tweeted that of the people injured in the crash: five people are in critical, four in serious, six in fair and four in good condition.
Copyright 2017 WWBT NBC12. All rights reserved