New island appears in the Outer Banks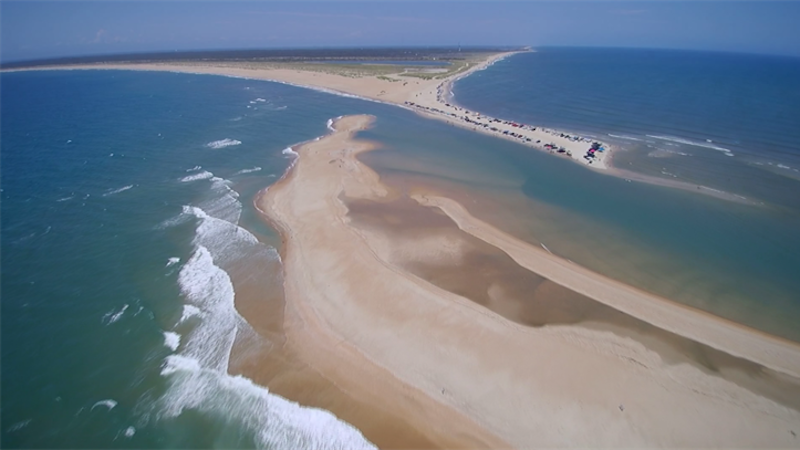 Published: Jul. 25, 2017 at 3:07 AM EDT
|
Updated: Jul. 25, 2017 at 10:30 AM EDT
OUTER BANKS (WWBT) - There's an old saying about a water-front property. It's valuable because they're not making any more of it.
However, that's not exactly true. What was once open ocean six months ago, is now a brand-new, full fledged island off the coast of Cape Hatteras, and it seems to be growing by the day.
Before you go, know that visiting this new island is not without some danger.
For James Rooke and his family, it has become an annual ritual of summer.
As park rangers suggest, Rooke let out a little air out of his tires to better navigate the soft white sands of North Carolina's Outer Banks, specifically, the beach near the light house that takes them to Cape Point, located on the Cape Hatteras National Seashore.
James and his wife Leigh have been coming to Cape Point since they were children, but they have never seen such large crowds. The reason can be seen about 30 yards offshore -- a brand new barrier island that seemingly popped out of nowhere.
HOW DID THE ISLAND FORM?
The island is about a mile long and, in some places, about three football fields wide. It has been dubbed "Shelly" Island, and the reason is obvious. Everyone who visits the island typically leaves with pristine conch shells. They are everywhere.
The trick is getting there. At low tide, you can wade across, but it is a different story at high tide. Trying to swim to get there would be a bad idea. Park rangers found themselves rescuing people just about every day.
"That's what all the warnings are about. This creates a rip current here. It's challenging to swim across, even if you're a strong swimmer," said Rooke.
A satellite photo of the area from February 2017 shows Shelly Island does not exist. However, by April, what was once a small sandbar, had grown into a full fledged land mass.
Shelly Island is the result of two conflicting ocean currents coming together in the same spot -- the Gulf stream from the south, the Labrador current from the north. The result is churning sand and the island.
OTHER POTENTIAL DANGERS
Todd Raible visited Shelly Island for vacation. He is from Indiana and is a former Marine and discovered something interesting on his visit. He knew right away that the barnacle encrusted tube of metal he found was some type of explosive.
"The rangers over there talking to my son asked my son to call over and told me that they'd appreciate it if everybody got off. They'd like to shut it down until the National Guard came up and removed the ordinance," said Raible.
It turned out it was a World War II training ordnance, and was not a threat.
ENJOY 'SHELLY' ISLAND NOW
The Rookes are from Mechanicsville, but they are spending as much time as they can on Shelly Island. It's the novelty of the island, the natural wonder, and of course, all the shells.
"We went down to the bottom part of the island and conch shells as far as you could see, just sticking up a little bit.  You'd pull it up and the entire conch shell would be there, beautiful, pristine," said Leigh Rooke. "It's amazing to think that something this big can come out of the ocean, just from a flat area to a very high point in the ocean."
If you have plans to visit Shelly Island, do it quickly. Because the transitory nature of the Outer Banks, the island could continue to grow or sink back into the ocean with the next storm. Experts warn that nothing is forever on the North Carolina coast.
Copyright 2017 WWBT NBC12. All rights reserved