Good Samaritan comes to rescue of man stabbed in Chesterfield bar brawl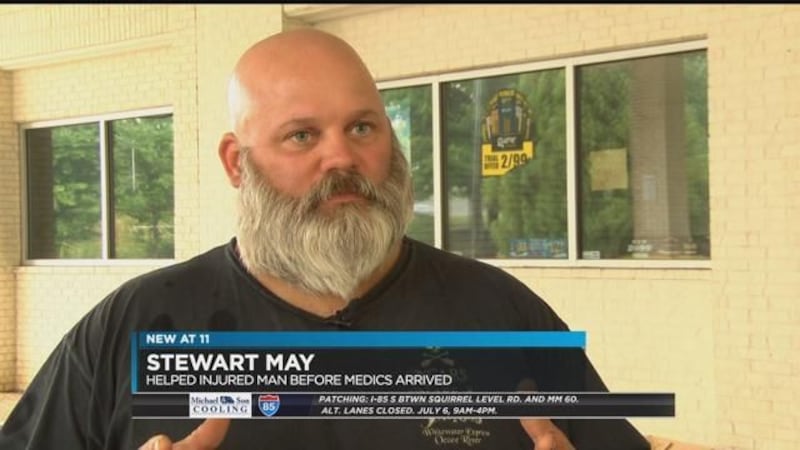 Published: Jul. 6, 2017 at 2:56 AM EDT
|
Updated: Jul. 6, 2017 at 8:22 AM EDT
CHESTERFIELD, VA (WWBT) - The Chesterfield man, who stopped to help a stabbing victim, is speaking to NBC 12 about what happened.
The victim remains in the hospital on Wednesday after police say he was stabbed outside the South Beach Bar on Hull Street. The Good Samaritan's quick thinking could have been what helped save the man's life.
Investigators wasted no time making a quick arrest in the bar brawl that left a man bleeding from a stab wound to the neck.
Imagine celebrating the Fourth of July holiday at your local bar, when all of a sudden, things took a turn for the worst.
"A lot of people were freaking out," said Stewart May, who was at the South Beach bar early Tuesday morning.
"The three of them were having words at the bar. The two males stood up, and that's when the bartender broke them up and made the one guy leave,"
said May.
May says the stabbing victim hadn't gotten very far after he was asked to leave.
"It happened within five feet of where he ended up. He probably took five or six steps and then he passed out. I heard somebody say, 'You're bleeding' and within two or three seconds, he was covered," May recalled.
That's when May got out of his car - recalling his military training to step in.
"I was in the process of taking him to the curb, and he blacked out. We barely made it to the curb and he blacked out, fell backward and hit his head. I
got behind him, propped him up, put his back against my leg to prop him up. I just kept keeping [the] pressure on the wound to stop the bleeding because it was squirting a lot. He turned pale. He got very cold and started foaming a bit. I knew he was very close. I wasn't sure if he would make it or not,"
May remembered.
Within minutes, first responders arrived.
"He would've bled out in the next minute," he said.
An hour after the ordeal, police arrested 25-year-old Daniel Narron for malicious wounding.
"It's senseless. People are there to have a good time," May said.
Police have not said what led to the altercation.
May says he's waiting for the victim to get better so he can visit him in the hospital.
The victim is expected to be ok.
Managers at the South Beach Bar are not commenting.
RELATED STORY:
Copyright 2017 WWBT NBC12. All rights reserved