SPECIAL REPORT: Surprise medical bills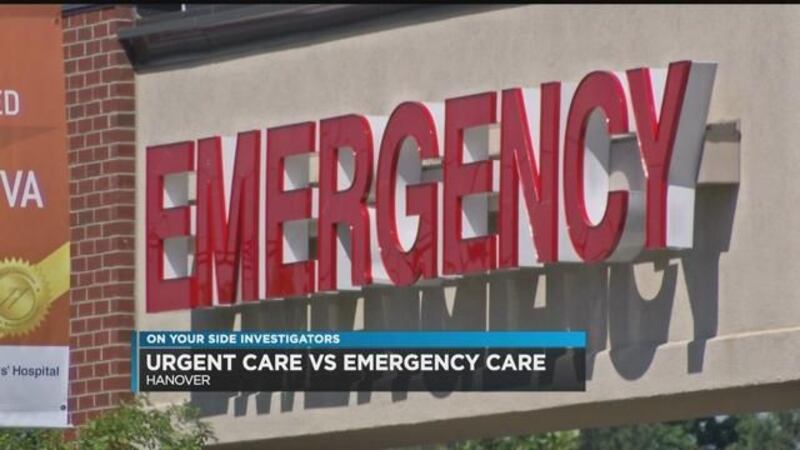 Published: May. 19, 2017 at 3:56 PM EDT
|
Updated: May. 22, 2017 at 5:22 PM EDT
RICHMOND, VA (WWBT) - There's a new kind of health care facility popping up around the country. They're called free-standing emergency rooms and are meant for people who need medical attention right away.
But some patients are confusing them with "urgent" care centers, and that can lead to a big surprise when the bill arrives.
After a fun weekend on the river, Fran Friel's son started having a problem. "His arm was a little red and swollen."  She feared it was some sort of weird infection or blood clot.
"We call the doctor, and they couldn't get us in for a day or two," said Friel. "So I said, 'Well, there's the emergency clinic right down the road."
There was no wait. The visit took exactly 25 minutes.
Nurses took her son's vitals. A doctor showed up for about two minutes. The staff looked at his arm and pulled out a sharpie.
"They drew a circle around it with a sharpie and said if it gets worse, come back. Take the antibiotics and that was it."
A month later, she opened her mailbox to a jaw-dropping surprise.
"There's a bill for $1,467. I was just floored," said Friel. "I knew we were going to get some kind of bill, but I was just astonished at the amount that it was."
A week later, she received another shock at the mailbox, a $505 bill. It was from the doctor who treated her son.
"It was almost $2,000 for 25 minutes of care," she said. It's because Friel took her son to something called a free-standing emergency room, which is an ER not physically attached to a hospital but still charging close to the same price. That means even patients with insurance are on the hook for more money.
"It kind of gives you the perception of a clinic type place, on the road, not affiliated with a hospital, but it is really like you are going to an emergency room," Friel said.
The freestanding emergency room is a new trend in healthcare, spreading to 35 states.
There are now three in Central Virginia.These centers are usually open 24/7 with a staff trained in emergency medicine. They can do labs, X-Rays, CT Scans and ultrasounds on the spot.
NBC12 reached out to HCA Healthcare, the company that runs the Hanover Emergency Center, to ask for an interview on camera and get a tour of the facility.
HCA provided this written statement:
Freestanding ERs like Hanover Freestanding Emergency Center are designed to provide the same type of care ERs in hospitals provide. Unlike an urgent care center, we have the same clinical specialists, advanced technologies, and services patients would see in a hospital's ER, where patients may be seriously ill or hurt. We have advanced diagnostic technologies typically used in hospital-based ERs including an on-site laboratory, dedicated digital X-ray room, and computerized tomography (CT) scanner so we're able to offer convenient emergency care right in our community.

 There are significant differences between emergency centers and urgent care centers, sometimes referred to as walk-in clinics. Urgent care centers are great resources for treating conditions like colds and ankle sprains, but when a higher level of care is needed, patients should go to the nearest ER. Because freestanding ERs have to be ready to take care of seriously ill or injured patients, it is also important to understand
that freestanding ERs may not be the most cost-effective place to go when a lower level of care is needed. When in doubt about whether a facility is a freestanding ER or urgent care, patients should look for the word "EMERGENCY" on the building – by Virginia law, all ERs must have this word in red letters clearly visible on the building.
           
-- Marsh Cuttino, M.D., FAAEM FACEP
Chairman of Emergency Medicine at Henrico Doctors' Hospitals
Friel got a hold of a patient advocate on the phone at the facility and was able to get her bill significantly reduced.  She just doesn't want anyone else to experience her headache.
"Be aware that when you go in there, you're paying just like you're going to a hospital," she said.
If you are ever in doubt when you go to a facility, ask a lot of questions, get a list of all staff treating you, get insurance acceptance in writing, ask for an itemized bill.  And again, look for the word "emergency" on the building.
By Virginia law, all ERs must have this word in red letters clearly visible. If you see them, you are most likely paying ER prices.
Copyright 2017 WWBT NBC12. All rights reserved