Henrico man charged with child rape; roommate charged with bestiality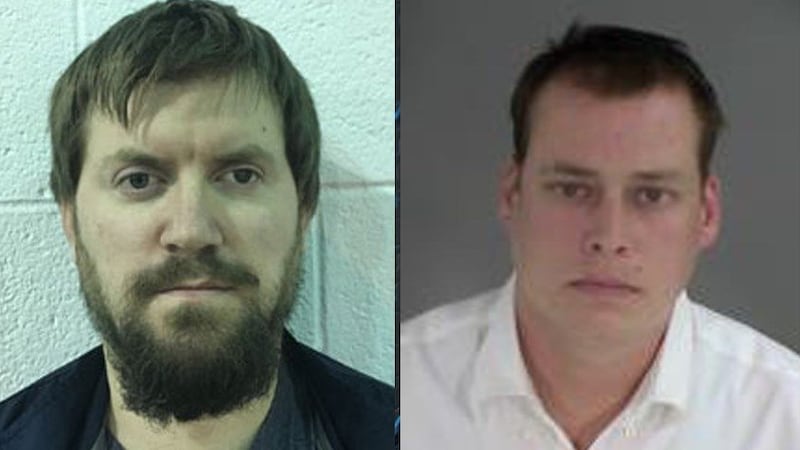 Published: Nov. 17, 2016 at 6:30 PM EST
|
Updated: Nov. 18, 2016 at 4:03 AM EST
HENRICO, VA (WWBT) - A Lakeside man is facing charges in Pennsylvania -- including a charge of raping a child -- after authorities say he took part in a child sex ring.
Craig Knox, 35, was living in the 2900 block of Kenwood Avenue when police executed a search warrant this week for child pornography and crimes against nature.
His roommate Stephen M. Taylor was also arrested and faces charges of bestiality and animal abuse in Henrico.
The Pennsylvania Attorney General's Office says Knox, 35, was arraigned on the charges stemming from the alleged assaults that occurred in 2010 in Luzerne County. Prosecutors says Knox raped a 9-year-old boy after another man, David Parker, brought the child to Knox's Pennsylvania home. The reports says both men sexually abused the child.
He is now back in Pennsylvania where authorities say he allegedly raped a young boy and was part of a child sex ring.
"I came to the door and I saw a mass of police and other vehicles with blue lights all they way from Impala up past my tree there," says neighbor Debra Kendall. "I heard them break the door in and I heard the young man Matt (Stephen Taylor) yell at his roommate, 'What have you done?' That was Craig."
A few days later, Henrico police arrested Taylor. According to a warrant, Taylor and Knox talked about having sexual contact with dogs. It says devices showed Taylor sexually abusing a dog and one of the eight Rottweilers at the home had serious injuries. Court documents say the alleged abuse by Taylor started three years ago.
"It's appalling to me. Just appalling," says Kendall who talked to Taylor a few days before his arrest. "When I talked to (him) he said he was going out to his mom and dad's for a while because he was so upset. Then a week later, I'm watching the news and I see him on the TV and I just freaked."

Richmond SCAN or Stop Child Abuse Now says when it comes to children who are abused, the easiest sign to tell if something is wrong is if there is a sudden change in a child's behavior.
Both Knox and Taylor remain in jail. Knox is due back in court in Pennsylvania on November 30th. Taylor is due back in court in December.
Below is the full press release from the Pennsylvania Attorney General's Office about Knox's charges:
HARRISBURG — Attorney General Bruce R. Beemer today announced the Office of Attorney General's Child Predator Section has filed felony criminal charges against a Virginia man in connection with his alleged sexual assault of a 9-year-old boy.

Craig M. Knox, 35, was arraigned yesterday on the charges, which stem from alleged assaults that occurred in 2010 in Pittston, Luzerne County.

Agents with the Child Predator Section in June filed criminal charges against two other alleged child predators. Information developed as part of an ongoing investigation led to the charges against Knox.

"This is a troubling case where two men allegedly conspired to exploit a child," Attorney General Beemer said. "This is another example of the important work being done by our Child Predator Section to bring predators to justice."

Beemer also announced that additional criminal charges have been filed against David R. Parker, 38, of Saylorsburg, Monroe County.

According to a criminal complaint filed by the Child Predator Section, Parker is accused of bringing the 9-year-old boy to Knox's residence for the purpose of arranging sexual contact between the boy and Knox.

It is further alleged that Parker engaged in sexual contact with the same child, investigators stated in the criminal complaint.

Parker was arrested in June by the Child Predator Section after a court-approved search of his residence led agents to discover numerous images of suspected child pornography on his cell phone. His arrest coincided with the arrest of Jeffery Harvey, 40, of West Wyoming, Luzerne County, who is charged with trying to arrange a sexual encounter with a person he believed to be a 13-year-old boy. The boy was actually an undercover agent.

Information obtained during the course of the investigation showed that Parker had been in contact with Harvey for the purpose of procuring a child for a sexual encounter involving both men and the child, agents alleged in a criminal complaint. Harvey's case is pending. He is being held in the Lackawanna County Prison.

Parker, who is being held in the Monroe County Prison, was most recently charged with two counts of unlawful contact with a minor and one count of sexual exploitation of children. His preliminary hearing stemming from those charges is scheduled for Dec. 7. A preliminary hearing is also scheduled for Dec. 2 on the charges the Child Predator Section previously filed against Parker.

Knox, of Henrico, Va., is charged with one count each of rape of a child, involuntary deviate sexual intercourse with a child and sexual exploitation of children, as well as two counts of unlawful contact with a minor.

He was taken into custody by the FBI Child Exploitation Task Force prior to his preliminary arraignment yesterday. His bail was set at $500,000 and a preliminary hearing is scheduled for Nov. 30. He is being held in the Luzerne County Prison.

Parker, Knox and Harvey will be prosecuted by Chief Deputy Attorney General Ellen Granahan of the Office of Attorney General's Child Predator Section.
Copyright 2016 WWBT NBC12. All rights reserved.