VA changes definition of first trimester, loosens abortion clinics regulations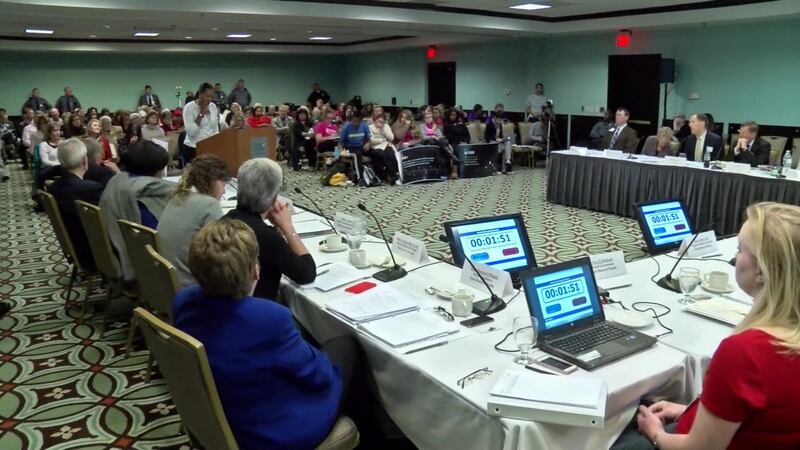 Published: Oct. 24, 2016 at 11:20 PM EDT
RICHMOND, VA (WWBT) - The Virginia State Board of Health adjourned for the day Monday after amending several strict regulations that would have had abortion clinics meet guidelines similar to those of hospitals.
Three years ago, former Governor Bob McDonnell approved regulations requiring abortion clinics to follow many of the same strict guidelines as hospitals. Governor McAuliffe and many of his appointed board members are now easing those restrictions.
Monday's action is being considered a win by pro-choice advocates and a "sham" by those against abortion. When the board of health passed the final amendment, pro-choice people in the audience stood up and cheered.
That final amendment is the most impactful - it eases former Governor McDonnell's regulations on the buildings abortions are performed in. In 2013, McDonnell passed regulations that any facility or clinic performing abortions meet the same building codes as hospitals.
The U.S. Supreme Court recently ruled against a similar regulation in the state of Texas.
The Virginia State Board of Health has amended that regulation, essentially saying an abortion clinic is more comparable to a dentist's office that performs out-patient surgery or a doctor's office that performs a colonoscopy.
"I am very concerned by the fact that these restrictions are closing our healthcare centers in Virginia, which is limiting access to women who otherwise may not have any other means to receive the care that they need," said Dr. Serina Floyd, Medical Director of Planned Parenthood of Metro Washington.
"There are hundreds and hundreds and hundreds of violations, so if we water down the regulations, the surprise inspections, the one that's going to hurt the most is of course, the woman. So we are for keeping those standards high," said Terry Beatley, Founder of Hosea Initiative.
From here, all of the amendments head to the executive review that ends with Governor McAuliffe's signature. After that, there's a 30-day public comment period, after which all of the amendments approved will go into place.
Governor McAuliffe has been very vocal and active in making the changes that were made, so we should expect him to sign off on this sooner rather than later. In a statement from the Governor:
"This afternoon's vote signals a victory and the end of a protracted regulatory fight over the future of women's health in Virginia. I want to thank the Virginia Board of Health for working to repeal onerous regulations designed solely to reduce or outright remove access to essential reproductive health services for women across the Commonwealth.

"This vote demonstrates to the rest of the United States and the world that Virginia is a community where people can live, find employment, and start a family without politicians interfering with decisions that should be made by women and their doctors. When I ran for office I promised to be a brick wall for the women of Virginia against any attempts to infringe on their reproductive rights. I'm happy to say that my administration has and will continue to keep that promise."
Another change made at the meeting was the definition of what the "first trimester" is in our state. The board has changed the meaning to read 13 weeks and 6 days after the last menstrual period - or based on an appropriate clinical estimate by a licensed health care provider.
There has also been a win for medication-only abortion facilities, stripping a requirement they carry additional medications that some board members argue are not directly related to abortions.
Statement from Victoria Cobb, President of the Family Foundation of Virginia:
"Today, the $1 billion abortion industry got what it paid for; politically motivated protection from Terry McAuliffe.  Despite overwhelming evidence uncovered by inspections of abortion centers, including bloody, unsterilized medical equipment, doctors and nurses not washing hands or re-gloving between patients, untrained and unaccountable staffing, and hundreds of other deficiencies, the Board of Health, populated by those who passed the Governor's pro-abortion litmus test, did as they were ordered.  During this sham process demanded by the Governor the Board violated the clear law of Virginia regarding the transparency and ethics that guide the adoption of regulations.

"While the Board is attempting to hide behind a radical interpretation of this year's Supreme Court decision regarding abortion center safety and abortion industry talking points, any reasonable Virginian understands that when a Board tasked with health care safety votes to eliminate even the CDC's minimum standards for infection control, its politics not health driving that decision.

"The actions of the Board that violate state law and the Board's disregard for the clear intent of the General Assembly have opened Virginia to costly litigation.  We have known from day one of this administration that abortion will be protected at all costs – including ignoring the well-being of the women who make the unfortunate decision to entire an abortion center in Virginia. Under Terry McAuliffe and Mark Herring, the political ends justify illegal means."
Statement from Tarina Keene, executive director of NARAL Pro-Choice Virginia:
"Today's vote marks the culmination of a five-year regulatory drama that has placed Virginia women's health and safety in severe  jeopardy by targeting the state's first trimester abortion providers with unnecessary and politically motivated regulations. We applaud the Board of Health's years-long work to repeal or amend many of the restrictions that threaten providers' ability to continue to offer women the full range of necessary reproductive healthcare services, including abortion. We believe the Board's actions will help protect a Virginia woman's ability to access safe and affordable abortion care no matter her circumstances. However, until the General Assembly repeals the unconstitutional statute giving rise to these medically unnecessary restrictions, abortion providers will continue to be subjected to sham restrictions that have long been opposed by physicians and other medical experts."
Statement from Anna Scholl, executive director of Progress Virginia Education Fund:
"Today the women of Virginia can take a deep breath knowing that for now they will continue to have access to safe and legal abortion. Politicians, not doctors, pushed these sham restrictions to cut off women's ability to access comprehensive reproductive health care services. A woman who has decided to end a pregnancy deserves to be treated with respect and support, not politically motivated shame and stigma. Today's vote is a step forward for the women of Virginia but we must to more to ensure politicians stay out of the doctor's office."
Statement from Cianti Stewart-Reid, executive director of Planned Parenthood Advocates of Virginia:
We applaud the Board of Health for putting women's health ahead of politics and adopting amendments to the regulations which remove many of the onerous, politically motivated restrictions on providers. For 100 years, Planned Parenthood has provided high quality care to women, men and young people; and, we will always fight for access to the full range of reproductive care including safe and legal abortion."
Statement from Gail Deady, The Secular Society Women's Rights Legal Fellow at the ACLU of Virginia:
"The Supreme Court made it resoundingly clear that regulations that impose burdens on access to abortion without providing a health benefit are unconstitutional.  Advocates have been saying for years that the restrictions in Virginia are designed only to close clinics and make abortion difficult, if not impossible, to access.  We are proud that today's vote brings our abortion regulations in line with the rights protected by the Constitution.

"That said, the vote today is not a permanent solution.  The board of health has taken a critical step to ensure the health and safety of Virginia women.  It is now up to the legislature to do theirs and repeal the statute in full."
Statement from Margie Del Castillo, Associate Director of Community Mobilization for the National Latina Institute for Reproductive Health in Virginia:
"Today's win represents years of work by community members and advocates who have fought hard against these sham restrictions. These regulations harm Latina health in particular. A Latina working to raise the necessary funds for these services must often choose between paying for food, rent, or utilities, and the healthcare she needs. Harmful, sham restrictions compound the cost for women due to lost wages and added childcare and transportation expenses. Today's vote will begin the process of lifting the burden off Latinas and all women in Virginia, who deserve better."
Copyright 2016 WWBT NBC12. All rights reserved