Poll: Morrissey's lead shrinks heading into only televised Mayoral debate
Published: Oct. 15, 2016 at 5:22 PM EDT
|
Updated: Oct. 15, 2016 at 5:59 PM EDT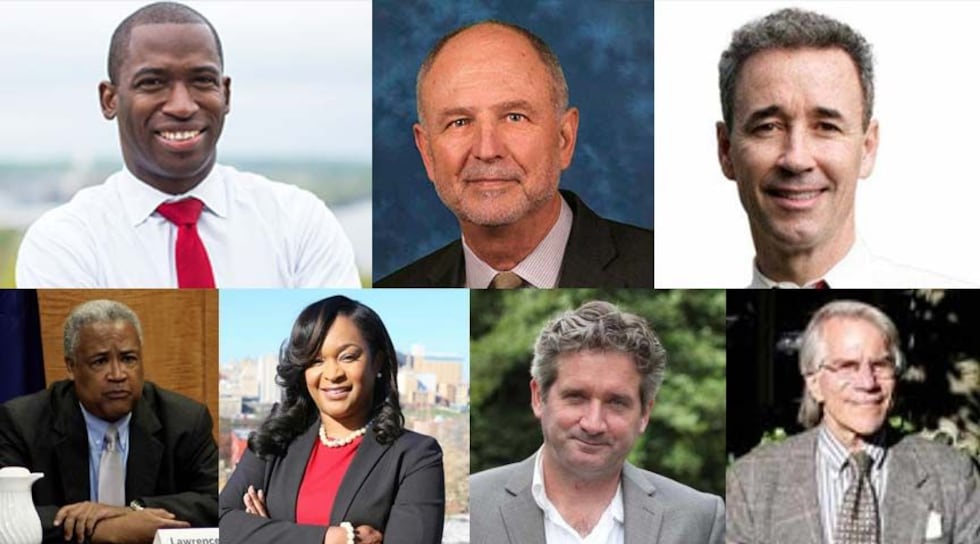 RICHMOND, VA (WWBT) - Joe Morrissey continues to lead the field in Richmond's mayoral race, but his margin is shrinking according to a ChamberRVA survey released Saturday.
Morrissey was the top choice of 20 percent of likely voters in the poll, followed closely by Jack Berry at 17 percent and Levar Stoney at 15 percent, according to the survey conducted October 5 - 11 by the Southeastern Institute of Research. Jon Baliles came in fourth at six percent followed by Michelle Mosby at four percent. Bobby Junes and Lawrence Williams both received less than one percent of the response in the poll of 1,850 likely voters with at least 200 responses from each of the city's nine districts. The margin of error is 2.3 percent.
The survey found 38 percent of respondents remain undecided with less than four weeks until Election Day and only a third of those undecided were leaning to any of the candidates. Of those Morrissey and Stoney led with 21 percent each, followed by Berry at 16 percent.
The poll comes as the top five candidates prepare to square off in the only live, televised Mayoral debate before the election. ChamberRVA is hosting the debate on Monday at the Altria Theater. Doors open at 6 p.m. NBC12, WCVE FM and WCVW-57 will broadcast the debate live starting at 7 p.m. and NBC12 will stream it live online and on the NBC12 News app and NBC12 News Facebook page. The event is presented by Altria and is free and open to the public. WCVE-23 and WHTJ-41 will also rebroadcast the debate at 10 p.m.
The ChamberRVA survey is the third published poll and shows Morrissey with a smaller lead than the two published previously. Morrissey led Berry 28 percent to 16 percent with Stoney in fifth place at seven percent in a Wason Center poll published at the end of August. Morrissey's lead was just four percent  over Berry, 29 percent to 25 percent with Stoney in third at 14 percent, in a Richmond Association of Realtors poll at the end of last month.
However, Morrissey continues to lead in six of the nine council districts in the newly released survey. He led in just three in the first poll and six in the second poll. Berry leads in three districts in the two most recent polls. Richmond's election rules require the winner to win in at least five of the nine city council districts. If that does not happen on Nov. 8, then the two candidates receiving the highest vote totals city-wide will go into a runoff election to be held on Dec. 20.
The ChamberRVA Mayoral Survey also included voter's views on the top issues for Richmond going into the election. Those results showed improving Richmond schools is the top concern for city voters.
When asked their top priority, 93 percent of registered voters cited schools at their top priority. In fact, the majority of those polled gave the school system a C grade, in the ChamberRVA Mayoral Survey. The poll was conducted October 5 - 11 by the Southeastern Institute of Research and included 1,850 registered voters with at least 200 responses from each of the city's nine districts. The margin of error is 2.3 percent.
Eighty percent of the respondents gave Richmond Public Schools a C grade or lower, citing poor equipment and facilities (67 percent), poor administration and leadership (95 percent) and ineffectiveness in preparing students (52 percent).
Reducing crime and delivering basic services like trash pickup, street paving and pothole repair also topped the list of concerns. Crime reduction was deemed "important" or "very important" to 88 percent of those surveyed. Basic services scored the same number, while 87 percent said creating more jobs was "important" or "very important," followed by changing public housing (75 percent), improving public transportation (73 percent) and creating more recreational amenities on the James River (73 percent).
Respondents also stressed a need for regional cooperation when it comes to transportation (79 percent), public transit (77 percent), economic development (76 percent), poverty (75 percent), crime (71 percent) and workforce training (70 percent).
A new, privately financed downtown Coliseum was an "important" or "very important" priority for 63 percent of respondents.
When it comes to choosing the next mayor, respondents said "trustworthiness" and "honesty" were the most important qualities. Ninety percent want a unifier and someone who is respected, while 74 percent say the position of mayor should be that person's only job.
NBC12 News anchors Curt Autry and Diane Walker will serve as moderators along with WCVE News Director Craig Carper in Monday's debate.
Persons planning to attend the debate should plan to arrive by 6:30 p.m. Doors to the auditorium will close at 6:45 p.m. Opening remarks will occur at 6:45 p.m. prior to the live telecast starting at 7 p.m. The debate will continue until 8:30 p.m. after the live telecast ends at 8 p.m. with an opportunity for questions of the candidates from the audience.
Additional sponsors for the debate include Capital One, Dominion, First Tennessee Bank,Hourigan Construction and KVCF.
Copyright 2016 WWBT NBC12. All rights reserved