Richmond man speaks out after beach umbrella pierced his brain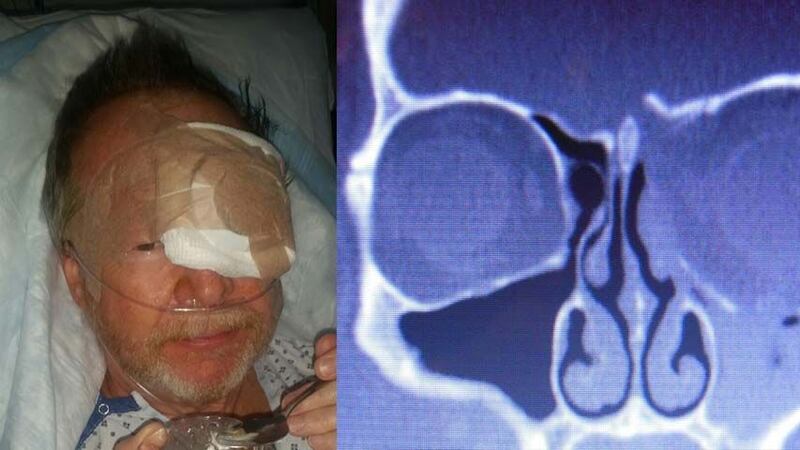 Published: Aug. 31, 2016 at 6:01 PM EDT
|
Updated: Aug. 31, 2016 at 8:01 PM EDT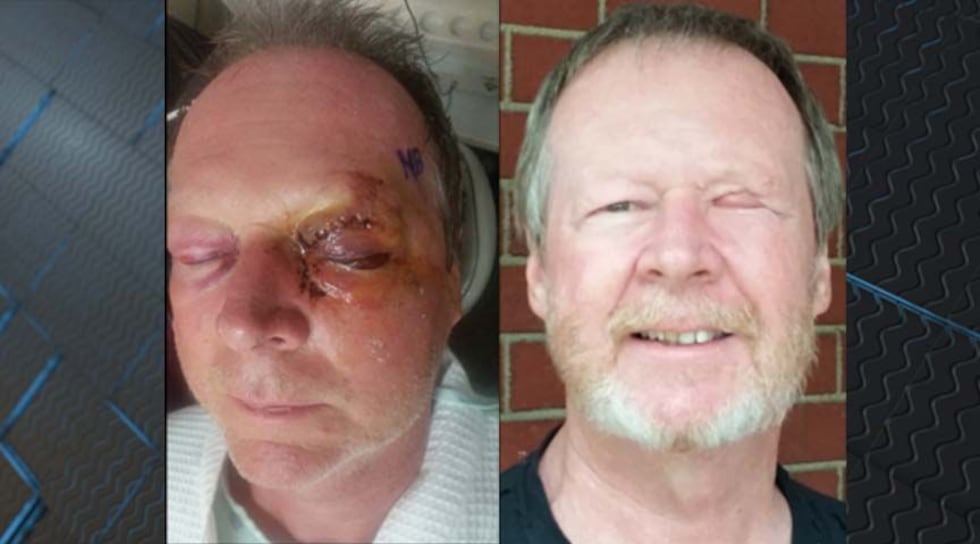 RICHMOND, VA (WWBT) - Ed Quigley of Richmond still bears the physical and mental scars from when a beach umbrella tore into his eye on July 4, 2015 at Dewey Beach, Delaware. He said he remembers every millisecond of it.
"The wind picked up a little bit, and my brother-in-law yelled 'there's an umbrella coming out of the sand,'" Quigley said. "I turned to the left and I saw this big beach umbrella just lift straight up, turned on end and the shaft shot through my left eye. It was like a sledge hammer when it hit."
He was rushed to a local hospital where a CT scan revealed a hole in his brain.
He was then airlifted to Johns Hopkins in Baltimore, where he stayed for a week as doctors stabilized him.
"They put some stitches in my eyelid, which the shaft went right through the eyelid," Quigley said.
Months later, he had surgery so doctors could repair the breach into his brain cavity. But that led to another near death experience.
"That's when my heart freaked out, and so they started doing the chest compressions and seven cycles with the paddles," Quigley said. "It took them 23 minutes for me to come back, and afterwards a nurse told me after seven minutes, it's rare that anyone comes back."
A couple months later, doctors implanted a defibrillator in his chest so there will be a back up if his heart stops again. He never had a problem with his heart before.
Next came reconstructive surgery.
"I just had an operation two weeks ago, and they put some plastic under the eye to hold it up. I have an eye in here," Quigley said.
All of this because of an umbrella that got caught up in the wind, which happens all the time, the danger of which is not usually considered until someone is hurt or worse.
Back in June, 55-year-old Lottie Belk was killed when an umbrella impaled her while she was at Virginia Beach.
"If you look up and down the east coast in hospital records, this is more prevalent than people think," said Bill Schermerhorn, who invented a device to try to make beach umbrellas safer.
He saw a little girl get injured by a flying beach umbrella seven years ago.
"People do the best that they can so they'll try to get the umbrella pole as deep as they can, they'll shoot the sand coming up on the side and everything," Schermerhorn said. "In some cases, they'll tie apparatuses, guide wires you'll see a lot of beach goers who'll sit close to their umbrella and hold onto their umbrella all day long - all of these things are just nuisances."
He came up with something called the Beach Bub. The umbrella pole goes six to eight inches in the ground and a specially designed portable sandbag, weighing about 125 pounds, attaches to the pole and holds the umbrella in place. It's lightweight and installs in moments, using sand already at the beach.
"It will hold close to 350 pounds, which is by far more than you need," Schermerhorn said.
It's one viable option. Ed Quigley says whatever people do as they head to the beach, they need to properly secure their umbrellas, somehow.
"Take care so that somebody else doesn't have to go through a death or something traumatic like I did," Quigley said.
Copyright 2016 WWBT NBC12. All rights reserved