Hundreds support petition for Byrd MS name change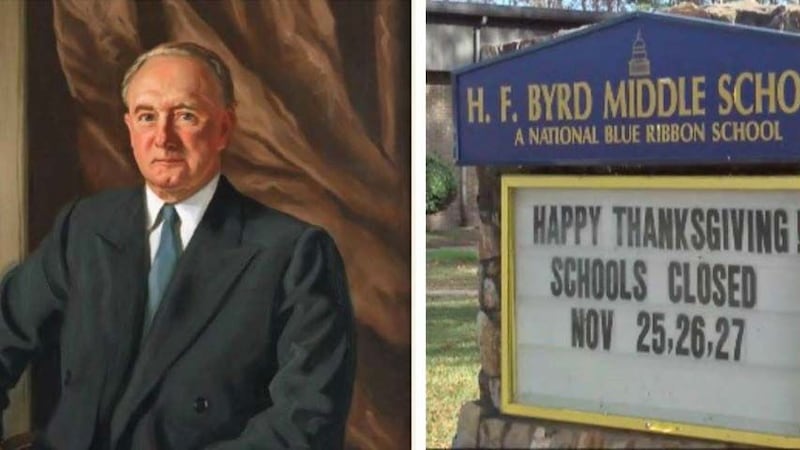 Published: Dec. 3, 2015 at 9:38 PM EST
|
Updated: Dec. 13, 2015 at 10:14 PM EST
HENRICO, VA (WWBT) - An online petition is making the rounds to rename Byrd Middle School in Henrico due to the questionable history of the school's namesake.
Harry Flood Byrd, a former Virginia governor and U.S. Senator, dominated politics for half a century. He was also an ardent segregationist. Byrd was the face of "massive resistance" here in Virginia. Sixty years ago, he led the fight to keep schools from desegregating. Entire schools closed to keep African-American students out. The policy ultimately failed.
In Henrico's West End, a public middle school is named after him and hundreds of people in the community want that to change. Leading the way are Hermitage High School senior Jordan Chapman and Byrd Middle school parent Anne-Marie Leake.
"He's a person that stood in the way of education and then there's an education facility named after him," said Chapman.  "So, I think that's the main reason why it should be changed."
Chapman started the petition to change the name.  She collected close to 400 signatures at football games, now there is an online petition as well.
"It's a part of Virginia's history but we are not only decades away from that history but we're in a new century and a new millennium," said Leake. "It's time for the school to reflect the values of the school, values of the community."
The school board says it is welcoming any feedback from the community.
"The Board has been impressed by Jordan's thoughtfulness and diligence, as well as the professional manner in which she's brought this matter to the public's attention," says HCPS spokesperson Andy Jenks.
Supporters of this petition plan to go before the Henrico school board on December 10. Some of the more popular suggestions is naming the school after Dr. Bill Bosher, the former Henrico superintendent and state educational leader. Dr. Bosher passed away last year.
Copyright 2015 WWBT NBC12. All rights reserved.