Virginians hope pipeline plan runs out of gas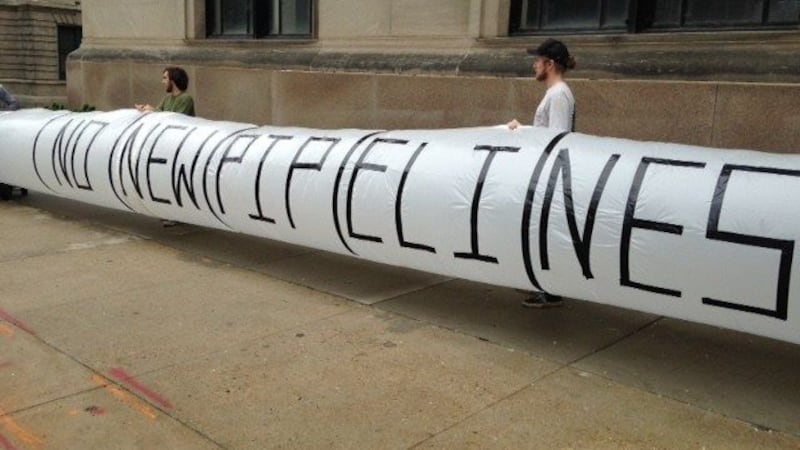 Published: Apr. 7, 2015 at 8:05 PM EDT
|
Updated: Apr. 17, 2015 at 5:50 PM EDT
RICHMOND, VA (WWBT) - The three-state Atlantic Coast Pipeline set to run through Central Virginia is getting the attention of residents throughout the Commonwealth.
Tuesday, the group came to Richmond to take its message to Gov. Terry McAuliffe, along with 5,000 signatures from concerned landowners and citizens hoping to stop the pipeline.
In the past, McAuliffe has come out in support of the project, but the hope is the signatures will help change his mind.
A small group gathered in Richmond with a big message: "NO NEW PIPELINES."
"I feel deeply violated, I really do, by Dominion's plans to put their pipeline on my property," said Joanna Salidis, who traveled from her home in Nelson County to weigh in on the Atlantic Coast Pipeline.
Salidis traveled from her home in Nelson County to weigh in on the pipeline project.
"We love our home and we don't want it converted into an energy super highway for Dominion," Salidis said.
"The pipeline starts in West Virginia and runs all the way into Virginia," says Dominion spokesperson Frank Mack pointing to the proposed line.
The three-state pipeline would end in North Carolina, but detractors say not before cutting through Central Virginia with a 42-inch pipe.
"The purpose of the Atlantic Coast Pipeline project is to meet the urgent energy needs in Virginia and North Carolina," Mack said.
The proposed 550-mile pipeline would carry pressurized natural gas.
Video provided by Dominion Power shows what work would entail.
Dominion says it understands people's concerns, but says there are positives to project.
"The Economic Development is going to be strong with thousands of new construction and permanent jobs and it's going to be cleaner air for everybody and there's going to be significant tax revenue on an annual basis," Mack said.
But, residents who may end up with this pipeline running through their communities aren't so sure. They worry about how this will impact public safety and natural resources.
"Imagine a 10-foot high dam on the ground holding back water. That's going to be the same thing, but underneath. And, what is that going to do to our public water supplies?" Augusta County resident Nancy Sorrells said.
Dominion hopes to have the project approved next summer and construction started in late 2016.
A spokesperson for McAuliffe said the governor is for the project if it's done right: "Governor McAuliffe supports the Atlantic Coast pipeline which will bring significant economic development and job creation opportunities to the region, and will lower energy costs. The governor also supports efforts to ensure that the project is done safely and takes into consideration local community needs and concerns."
Copyright 2015 WWBT NBC12. All rights reserved.