Richmond's new 'rapid' bus route to cut 260 parking spaces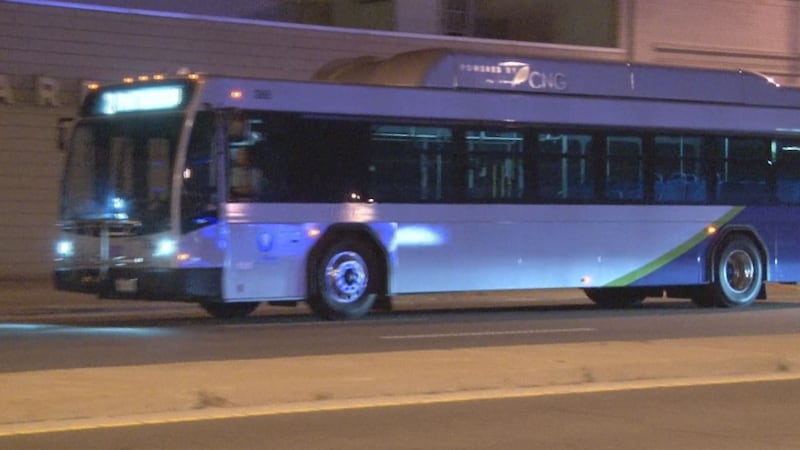 Published: Apr. 7, 2015 at 2:31 AM EDT
|
Updated: Apr. 17, 2015 at 6:59 AM EDT
RICHMOND, VA (WWBT) - A fast-track bus route is speeding into Richmond, set for 2017. However, the new transit system is planned to run over about 260 parking spaces, many along Broad Street. The future "GRTC Pulse" Bus Rapid Transit (BRT) line has got business owners along the stretch fuming that the route could negatively impact their storefronts.
GRTC hosted another public hearing Monday night on GRTC Pulse. Currently, engineers are redrawing the travel lanes along Broad Street to make way for the BRT buses.
GRTC Pulse buses are planned to wiz from Willow Lawn to Rocketts Landing, with only 14 stops in between. GRTC CEO David Green says GRTC Pulse has been more than a decade in the works, with most of the $54 million funding paid for by grant money.
"A [regular] bus has to stop all the time, every block or two. It takes a long time. BRT is only going to have 14 stations," said Green, explaining how the BRT bus line runs much like a train.
Platform bus stations will go up along the route. Lanes on Broad Street will be reconfigured. At this point in the plans, 260 parking spots along the stretch are set to be eliminated.
"Removing all of these parking spaces would be detrimental to us," said Jami Bohdan, who owns the Savory Grain restaurant along Broad Street.
Bohdan says customers have a hard enough time finding parking. Now, she says if they eat outside, they'll be sitting right next to the moving traffic, since the parking lanes will be nixed.
"We'll have traffic driving along the sidewalks, basically right next to where our patios are," continued Bohdan.
Many business owners agree, just because GRTC won the grant money, doesn't mean the project is a good idea.
"When there is money given, it's like… 'We have it. We have to spend it.' But, it may not be the best thing," said Kevin Korda, whose business, sits right in the middle of the BRT route.
"We're going to refine the plan a little bit more, and then ultimately put something in place that will meet the needs of everybody to the best of our ability," added Green.
Public hearings on the GRTC Pulse line will be held every three months. Another meeting will be held Tuesday night, from 6 – 8 p.m. at the DMV on 2300 West Broad Street in Richmond.
Copyright 2015 WWBT NBC12. All rights reserved