ABC arrest of UVA student spurs McAuliffe to ask for investigation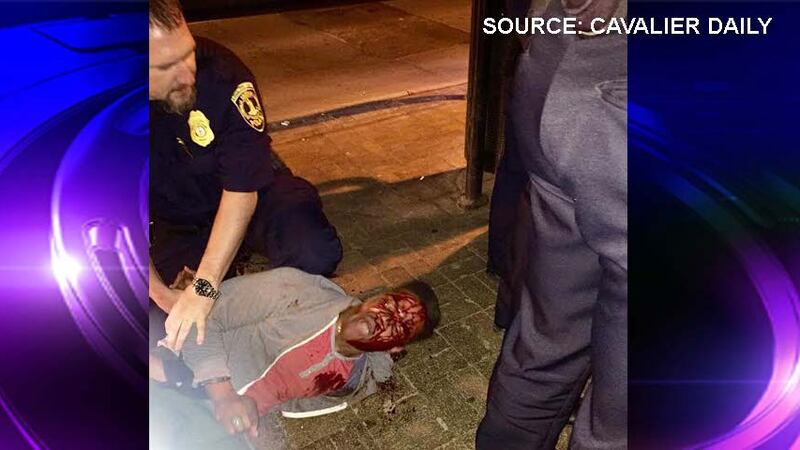 Published: Mar. 18, 2015 at 8:40 PM EDT
|
Updated: Mar. 19, 2015 at 1:32 AM EDT
CHARLOTTESVILLE, VA (WWBT) - Gov. Terry McAuliffe is asking for an investigation into an arrest by Alcohol and Beverage Control officers of a University of Virginia student.
The governor wants an independent Virginia State Police investigation into the arrest just after St. Patrick's day of 20-year-old student Martese Johnson. The ABC released a statement late Wednesday confirming the incident and saying the special agents involved are on administrative duties pending the investigation.
A photo and video circulating on social media appears to show Johnson bloodied with an officer standing over him.
WATCH: YouTube video of ABC arrest from the Cavalier Daily (explicit language): https://youtu.be/0faIzE0TSJA
"Governor McAuliffe is concerned by the reports of this incident and has asked the Secretary of Public Safety to initiate an investigation into the use of force in this matter," reads a statement from the governor's office. "The Governor's office has been in contact with University of Virginia President Teresa Sullivan and law enforcement and will continue to monitor the situation closely as the investigation proceeds."
Johnson, who is under the legal drinking age, was turned away from the Trinity Irish Pub, the Cavalier Daily reports. Around 12:45 a.m. on Wednesday morning he was arrested by Virginia ABC special agents were monitoring bars for St. Patrick's Day and arrested Johnson on charges of obstructing justice and public intoxication according to the ABC.
The Cavalier Daily reports Johnson was arrested by Alcohol and Beverage Control special agent J. Miller.
"A determination was made by the agents to further detain the individual based on their observations and further questioning. In the course of an arrest being made, the arrested individual sustained injuries," an ABC statement reads. "The individual received treatment for his injuries at a local hospital and was released."
READ: Statement from ABC on arrest [PDF]: http://shout.lt/Yzpb
"In these situations it's critical that we get all of the facts about exactly what happened as quickly as possible," said Attorney General Mark Herring in a statement. "I commend Governor McAuliffe for his swift decision to ask the Virginia State Police to investigate this situation."
ABC agents were involved in another controversial arrest of a UVA student from Henrico in a store parking lot in Charlottesville in 2013.
In that case, 911 tapes from the night of the confrontation seem to indicate that both the students who were targeted and a witness who was watching from afar had no idea who these armed ABC agents were, as they were not in uniform. The agency promised to revise policies after the case.
Read statement from UVA President Teresa Sullivan
Henrico's Elizabeth Daly and her roommate Anne Downey called 911 because she didn't know the men were ABC officers looking to arrest her roommate Daly, because they thought she had purchased alcohol underage. They were actually buying sparkling water. A separate unidentified witness also called 911 worried that she had seen gun pulled and didn't know who was involved.
Daly spent the night in jail charged with assault and battery as well as eluding police. Those charges were later dropped.
Copyright 2015 WWBT NBC12. All rights reserved