Richmond couple hosts Mardi Bras party for women in need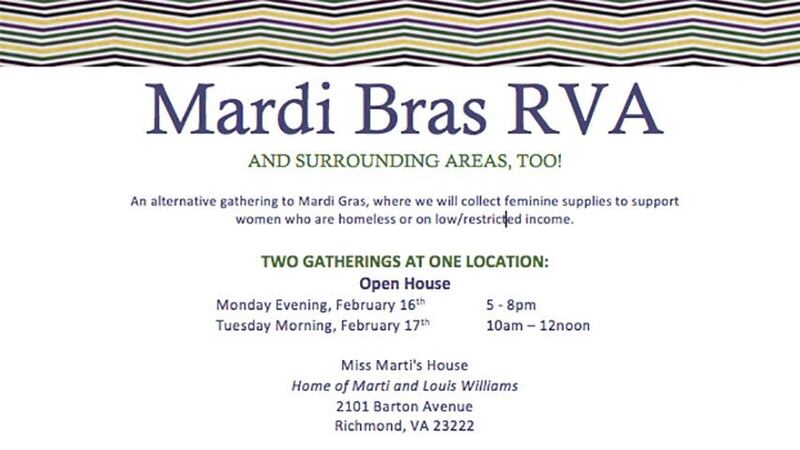 Published: Feb. 11, 2015 at 11:14 PM EST
RICHMOND, VA (WWBT) - People all over the world are getting ready for Mardi Gras, Tuesday, Feb. 17. But one Richmond woman is preparing for Mardi Bras. Instead of handing out beads, she is handing out the essentials for women in need.
With purple, green and gold beads draped around her neck, Marti Williams looks ready to host a Mardi Gras party inside of her home.
"We'll have some snacks, a great caterer," said Williams.
She has the usual carnival necessities: colorful cups, beads, and feathered masks. However, she also has a table filled with "favors" you normally wouldn't find on display.
"Pads, as well as incontinence pads, tampons, bras, underwear, all shapes and sizes," said Williams.
This is not quite a Mardi Gras party. It is a Mardi Bras party, and the idea came from one simple question.
"One of my friends who had recently been homeless came to me and said, 'I need some help. I need some shampoo and I need pads. Is there any way that you can help?" said Williams.
Helping comes easily to Williams and her husband Louis. They are co-founders of Into the Neighborhood, a ministry based out of their home in Barton Heights, where they help their neighbors on a regular basis.
So, she reached out to local agencies and ministries who work with homeless women, and asked what else they need.
Williams found out they desperately needed basic feminine products and undergarments.
"As women, it's really embarrassing to say I don't have those items. So we're being proactive about it and meeting a need," said Williams.
They are doing it by hosting open house gatherings on Monday, February 16, and Tuesday, February 17, where people can swing by and drop off whatever they can to help.
Visitors will be treated to a party atmosphere while fulfilling a purpose.
"It's taking Mardi Gras where women often bare their breasts for beads, we're going to cover some instead of baring them," said Williams.
Visitors will also be able to meet representatives of the organizations their donations will support.
Copyright 2014 WWBT NBC12. All rights reserved