Bailey's Law aims to curb VA pet shops from dealing with puppy mills
Published: Jan. 23, 2014 at 11:45 PM EST
|
Updated: Feb. 3, 2014 at 12:06 AM EST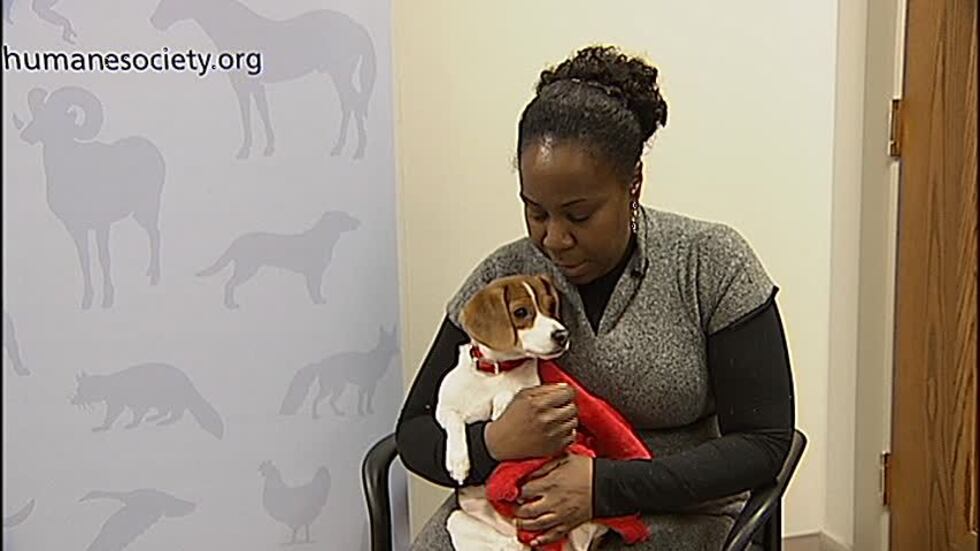 RICHMOND, VA (WWBT) - A new bill to stop Virginia pet stores from selling dogs born in puppy mills, is a step closer to becoming law. A Virginia Senate committee pushed through Bailey's Law, Thursday. The bill is named after a one-year-old beagle, named Bailey, who is also a puppy mill survivor.
Bailey ended up getting sold by a pet shop in Fairfax. The bill aims to stop animals from suffering at the hands of cruel breeders. Puppy mills breed female dogs over and over, selling pups in masses. The animals are kept in dyer conditions. If pet shops are dissuaded from buying puppies born in abusive situations, puppy mills will have less of a market.
Bailey's owner, Felicia Collins Ocumarez, says Bailey was emaciated and overrun with fleas when she bought her from a pet store.
"She was under three pounds…infested with worms, parasites… respiratory issues," described Collins Ocumarez.
Bailey survived. Collins Ocumarez traced Bailey's breeder. She discovered her dog was born in a notorious, out-of-state puppy mill.
"Some dogs…their uterus has prolapsed because they have been bred so many times. It's really a horrific situation," said Laura Donahue, the Virginia director of the Humane Society.
Donahue says that puppy mill dogs often end up in local pet stores. Senate Bill 228 would require pet shops to post information on where and who bred the dog. Pet shoppers can then background check breeders, to see if they have faced any charges.
"I think for pet shops that are ethical, and play by the rules... They're going to be fine. It's those folks who don't… It's going to be a problem," said Senator Chap Peterson (D) of Fairfax. Peterson is sponsoring the bill.
The law also increases the amount a pet store would pay in vet bills, if puppies become sick early on, after mistreatment in a puppy mill. One group, the Pet industry Joint Advisory Council, has an issue with the proposed hike.
"We believe that setting (the amount) at twice the purchase price of a pet, is out of step with the vast majority of other states in the country that do have warranty laws," said Mike Bober, Vice President of Government Affairs for the Pet industry Joint Advisory Council.
PIJAC also maintains that most breeders in the U.S. are responsible.
Still, Bailey will likely be forever plagued with stomach and respiratory issues, after being born in the hazards of a puppy mill.
"She appears to be very grateful, somehow, that she was rescued," added Collins Ocumarez.
Bailey's Law will be voted on by the Virginia Senate within the next few days.
Get the latest from NBC12's Kelly Avellino on Facebook and Twitter.
Copyright 2014 WWBT NBC12.  All rights reserved.