Chesterfield woman hospitalized after golden retriever attack
Published: Mar. 21, 2013 at 3:44 AM EDT
|
Updated: Mar. 31, 2013 at 4:38 AM EDT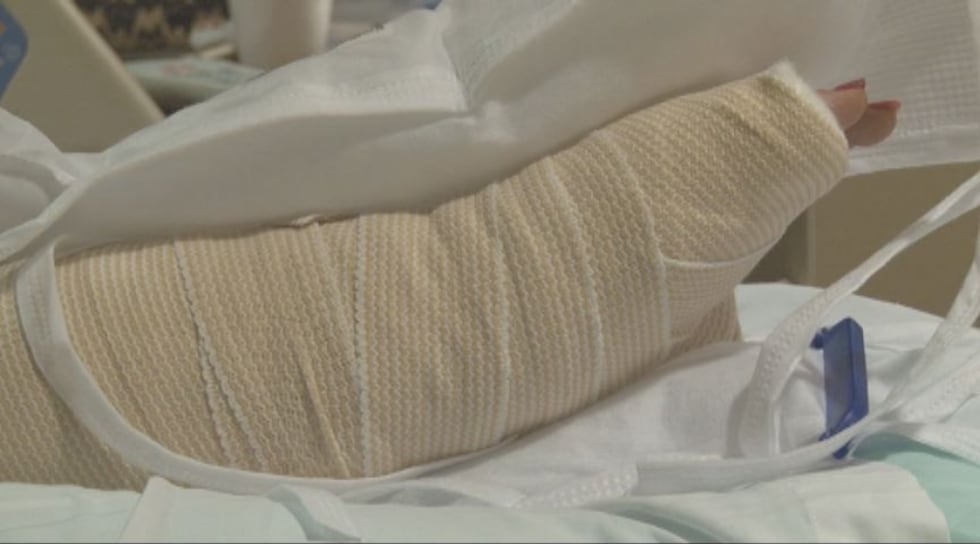 CHESTERFIELD, VA (WWBT) - A Chesterfield woman is in the hospital after being attacked by a neighborhood golden retriever.
This story contains some gruesome images of Kimberly Demaree's arm, just moments after she says, the dog attacked. It happened along the 9000 block of Husting Court.
Kim says the dog jumped a more than 5 foot tall fence and attacked.
"And I'm like he is going to rip my arm off," said Kimberley DeMaree. "That is what it felt like."
Kim is now on the mend after multiple tests and an intensive surgery.
"It was like one of those movies where they are wearing those jump suits with the padding and he was thrashing back and forth," recalls DeMaree.
She had no idea this is how her day would end when she stopped by a home on the 9000 block of Husting Court to deliver a notice letter.
"All he kept saying to me was I have a sign up," said DeMaree. "I have a beware of dog sign."
We spoke to the dog's owner.
"Are you apologetic about what happened?" we asked Randy Browning.
"Yes," replied Browning. "I feel sorry for her. That dog is mean."
Browning's golden retriever jumped the fence surrounding the yard.
"Were you surprised by that?" we asked Browning.
"No," replied Browning. "He's done it before."
"Has he ever bitten anyone before?" we asked Browning.
"Yeah," said Browning. "One other time."
Browning notes a judge dismissed that case because of the beware of dog sign.
"If you own a dog you have got to take every precaution to make sure it doesn't bite or harm another person," said NBC 12 legal analyst Steve Benjamin who notes signs are not fail safe. "The burden is on the owner to prove to a court of law that the dog in fact is not a dangerous dog or is not some other threat to the community."
Kim is pushing for criminal negligence charges. She is convinced action must be taken this time.
"It is like a lethal weapon in your house that has attacked someone," said Browning. "That dog is going to be living there. It's going to happen again."
We spoke to an animal control representative. They would not comment because of the ongoing investigation.
Copyright 2013 WWBT NBC12.  All rights reserved.