Richmond Police Chief Norwood out, former Asst. Chief in
Published: Feb. 12, 2013 at 2:09 PM EST
|
Updated: Feb. 22, 2013 at 2:09 PM EST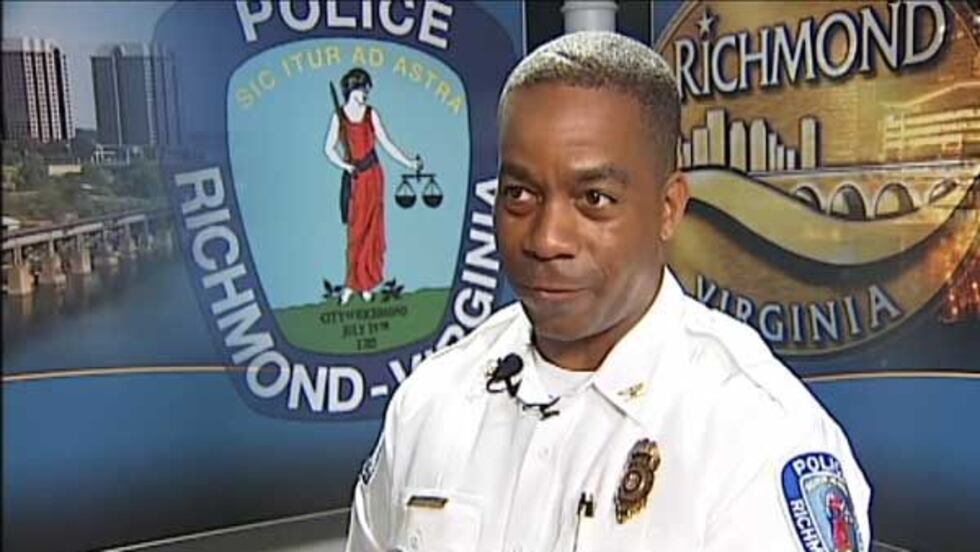 RICHMOND, VA (WWBT) - Bryan Norwood is out as head of Richmond Police and a new chief has been named. Tuesday morning, Mayor Dwight Jones tapped Ray Tarasovic as the new man in charge of the Richmond Police Department.
Speculation had circled for weeks that Norwood would soon be relieved of the post. Rumors gained momentum when Norwood's was named one of three finalists for the chief position in Raleigh. Norwood was ultimately not chosen for the post.
Supporters of the chief filed into City Council Monday, urging leaders to keep him on the job. Mayor Jones says he and Norwood reached a "mutual agreement" to end his four years as chief.
"It's public knowledge that Chief Norwood has been looking at other opportunities and he has been doing that for some time," Jones explained. "And quite frankly we have been looking at other opportunities, as well."
The mayor wouldn't say if he was looking at those other opportunities because of tension between himself and Chief Norwood. Issues included dealing with an overtime lawsuit that cost the city millions and the latest allegations about Chris Brown's community service with RPD sparked more speculation.
"We're going to judge him on his total record," Jones maintained.
Norwood's departure is costing the city. His severance formula is spelled out in city ordinance. NBC12 did the math. He should get just under $50,000 plus compensation for vacation and other leave.
The best way to describe the new man in charge is intense. Chief Ray Tarasovic says in his handful of meetings with the mayor they talked about Jones' vision for the city and his own vision for policing as Richmond's new top cop.
Tarasovic explains he and Mayor Dwight Jones reached an agreement in just the last several weeks. It brings him out of his fifth retirement.
"I love this city," he told us. "So I will serve this city, surely with my head because that's what I'm paid to do, but also with my heart."
According to Tarasovic, that service will include growing already-existing partnerships and a self-described intensity.
"I believe in responding to the stimuli that come in quickly, developing action plans to respond to those things quickly," he described.
The new top cop says there's work to be done when it comes to the city's crime stats.
"Create the action plan, start implementing the action plan and yet continue to gather fact and have that fact inform the modification of the plan," the new chief said.
Officers, who will put that plan to work, had an allegiance to Chief Bryan Norwood. Many were unhappy with the tension between the mayor and their chief and the uncertainty it brought.
"I can say to them that they are part of a professional organization that is not personality driven but is committed to public safety," Jones stated. "Whoever the chief is, is not going to change the mission."
Some, who knew Tarasovic when he was assistant to Chief Rodney Monroe, remember him as demanding and results oriented. Cops who have always been go-getters are pleased, while some others are wondering what will come next.
"His expectations are going to be extremely great, which should be in any organization," Deputy Chief Eric English maintained. "You should expect a lot from your folks and with that expectation there should be some great things that happen in this city."
Tarasovic was previously with RPD from 2005 to 2008 and followed Chief Monroe to Charlotte.
This is not an interim position. Jones tells NBC12 the new chief says he will serve as long as the mayor needs him.
Here's the Mayor's full statement:
"As of today, I have accepted the resignation of Bryan Norwood from his post as Chief of Police for the city of Richmond. I am very thankful for the more than four years of dedicated service he has offered to our city and for the leadership that he has brought to the Richmond Police Department. I know that in many ways, the Richmond Police Department and our city is better off because of his involvement, his dedication, and his concern and care for our communities. But we've reached a mutual agreement in that his time as Richmond's Police Chief has come to an end.
"Today I am announcing the appointment of Ray J. Tarasovic as Police Chief. Effective tomorrow, this appointment places a new chief in charge who already knows our city; having previously served as Assistant Chief of Police in Richmond under former Chief Rodney Monroe. He has made Richmond his home since coming here to serve on the force in 2005. He is coming out of retirement to be in service to the City again.
"Chief Tarasovic will bring a degree of professional leadership and knowledge that we need to move forward as our city grows and as we work to meet the challenges ahead.
"He is a veteran officer who is highly qualified with a career in law enforcement spanning forty-one years. He possesses over 30 years of management and executive experience in the states of North Carolina, Virginia and the District of Columbia. Most recently he has been working in a consulting capacity with the Virginia Department of Criminal Justice Services and the Office of the State Secretary of Public Safety, Marla Decker.
"During the years that Ray was Assistant Chief of Police here in Richmond, we experienced a 34% reduction in major crime and a 43% reduction in homicides; and I'm really looking for some strict attention to be paid to our homicide rate. Presently, we've got some work to do where our crime statistics are concerned; certainly we want to keep trending in a positive direction in those areas where we are doing well, and we want to improve in those areas that may have done a little back sliding.
"I believe our community policing model has worked well over the last several years. This is a model that was first introduced to our city by former Police Chief Monroe; and we want to continue the good work being done with the faith community and with the young adult police commissioners -- both aspects of our community policing program – and others.
"Overall, I believe that with Ray joining our team, our public safety efforts will be strengthened and improved upon going forward. I also believe his leadership will bode well for the development of the talent that exists in the police department presently."
Copyright 2013 WWBT NBC12.  All rights reserved.