Which batteries last longest?
Published: May. 10, 2012 at 10:10 PM EDT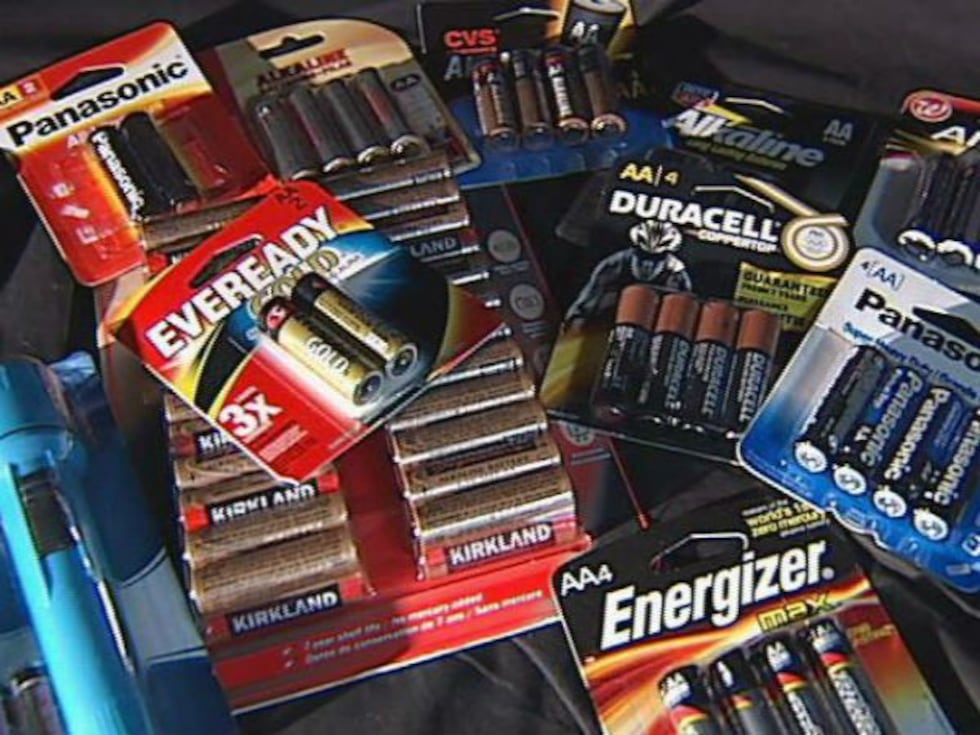 Tired of throwing away money on batteries that don't seem to last?
I bought 11 different brands of AA batteries and put them in identical flashlights to shed some light on which ones last the longest. I'm testing major labels, drug store brands, and a few I found at the Dollar Store.
I turned the flashlights on and waited. The first to go was the Panasonic alkalines. They lasted a minute shy of two hours. The Rayovacs that came with the flashlight were next. They only lasted 2 hours and 15 minutes. The Panasonic Plus gave out at 2:45. 3 hours and 33 minutes is when the Evereadys died.
The Dollar Store's longest-lasting battery was Sunbeam. These batteries are 25 cents each and lived four and a half hours.
Nine minutes later, Walgreen's batteries went dark — which hurts when you've paid 98 cents for each one.
The Dollar Store batteries were inexpensive and now I see why. The one ray of light was the Sunbeam brand.
The drug store brands fared much better, but with a pricetag around a dollar a battery, they're much more expensive.
CVS batteries outshined many I tested — they clocked in at five hours and nine minutes. But the Energizer you thought would keep going and going only lasted two minutes longer than CVS.
And then there were two: Kirkland and Duracell. Both weakened at the same time , but Duracell beat Kirkland by five minutes with a total lifespan of 5 hours and 56 minutes. The coppertop came out on top.
Kirkland's price is what sets them apart. They are 27 cents per battery versus 94 cents for the name brands. I'd hate to pay three times as much for a five minute difference.
Here is the complete breakdown of cost versus longevity:
Store
Brand
Price
# in Package 
Cost per Battery
Hours Lasted
Costco
Kirkland
$12.79
48
$0.27
5:51
Walgreens
Walgreens
$3.99
4
$0.98
4:39
Dollar Tree
Eveready Gold
$1.00
4
$0.25
3:33
 
Sunbeam
$1.00
4
$0.25
4:30
 
Panasonic Alkaline
$1.00
4
$0.25
1:59
 

Panasonic Super
Heavy Duty

$1.00
2
$0.50
2:46
CVS
CVS
$4.39
4
$1.10
5:09
Walmart
Duracell
$3.77
4
$.0.94
5:56
 
Energizer
$3.77
4
$0.94
5:11
 
Rayovac
Came with
Flashlight
2
n/a
2:15
Rite Aid
Rite Aid
$4.49
4
$1.12
5:27
Copyright 2012 WWBT NBC12.  All rights reserved.