NBC12 Investigates: Mortgage Mix-up
Published: Feb. 28, 2012 at 10:47 PM EST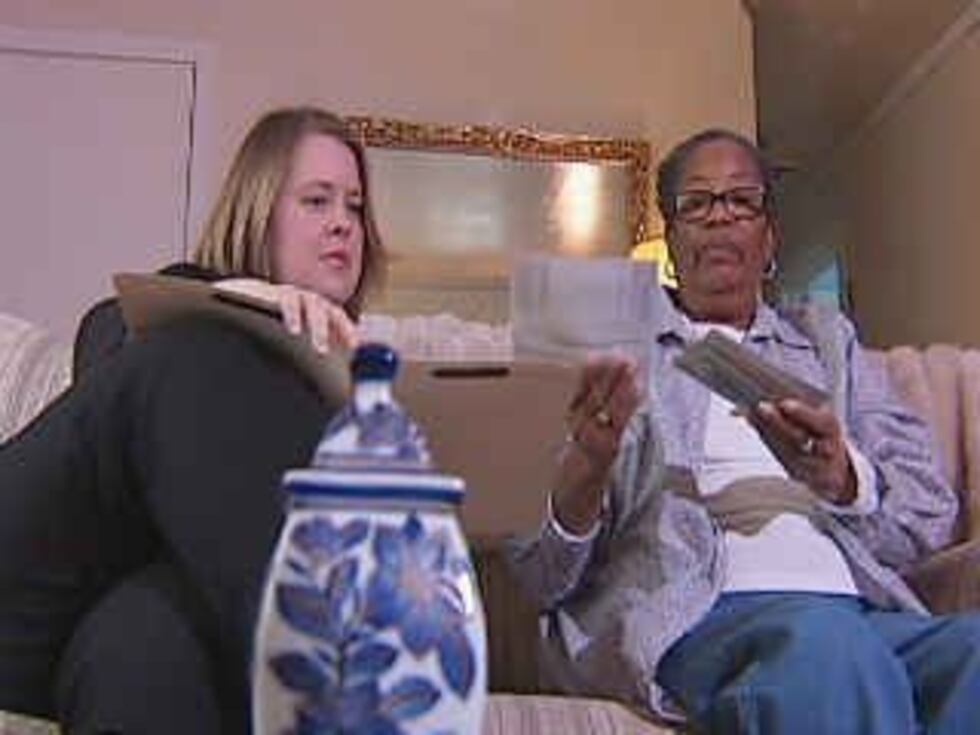 PETERSBURG, VA (WWBT) - The great recession is hitting home for Claireather Mason. Her mortgage company may be trying to take it.
"This is the only home I've ever known. I've raised my children here," she said.
The long time Petersburg resident says her troubles with her lender started last June. She paid her mortgage. She even has a statement from her lender showing it received the payment and processed it, but then she got this letter in the mail: telling her "We have not received your payment." "You are in default."
RACHEL: "So you pay a payment in June? And then they send you a notice saying you didn't pay?"  
MASON: "Right!"
"I also have my money order receipt. I have the receipt that was sent to me from your office and they still insist that my mortgage is not paid," Mason added.
Then her mortgage was sold from Litton to Ocwen Financial. And since that time Ocwen has never accepted any payments.
"These are my payments," she showed us.
Months of checks sitting on her living room table. She'd mail them in, but they just come back.
"They taped them together and they're still taped together and they mailed them back to me," Mason said.
Mason eventually called Central Virginia Legal Aid for help.
"Even their own records reflect that she's been diligent in making payments," said Sara Blose with the Central Virginia Legal Aid Society-Southside Office.
Sara Blose has sent letters on behalf of Ms. Mason- they were ignored.
"It's pretty shocking and appalling that you bring that to the attention of a company in writing with copies of their own company documents and they just blatantly disregard their own error," Blose said.
This letter and many since from Mason's lender now mention the word "foreclosure".
RACHEL: "Are you worried they're trying to take your home?"
MASON: "Yes I am! Because there seems to be no justice. It seems like the mortgage companies do whatever they want to do."
It's is a story Jay Speer's heard over and over in central Virginia.
"About people who have made their payments and yet they're being foreclosed upon anyway," he said.
Speer is with the Virginia Poverty Law Center and says they are finding that mortgage companies do not seem to keep good records.
"The mortgage servicing companies do not have nearly enough staff to handle what they should be doing. And this leads to these kinds of problems," Speer explained.
Mason says she's run out of tears. "I have the money and I continue to save the money each month."
She's simply trying to pay her mortgage, on time- once a month…like she's done for years.
"I am too old to be sleeping in the park," Mason said.
NBC12 contacted Ocwen Financial. A spokesperson told us- sometimes mistakes do happen.
And in this case Ocwen believes a mistake was made when the loan was transferred to it. A spokesperson says it can't comment on the prior servicer's interactions with Ms. Mason, "But it can assure that someone from our office will be reaching out to her quickly to rectify the situation."
We will continue to follow this story and find out what happens for Ms. Mason.
Virginia recently joined 49 other states that have signed on to a landmark 25-billion dollar settlement with the nation's five largest mortgage servicers. Ocwen Financial is not part of the agreement.  
Copyright 2012 WWBT NBC12.  All rights reserved.