Five most dangerous intersections in Richmond
Published: Feb. 17, 2011 at 3:15 PM EST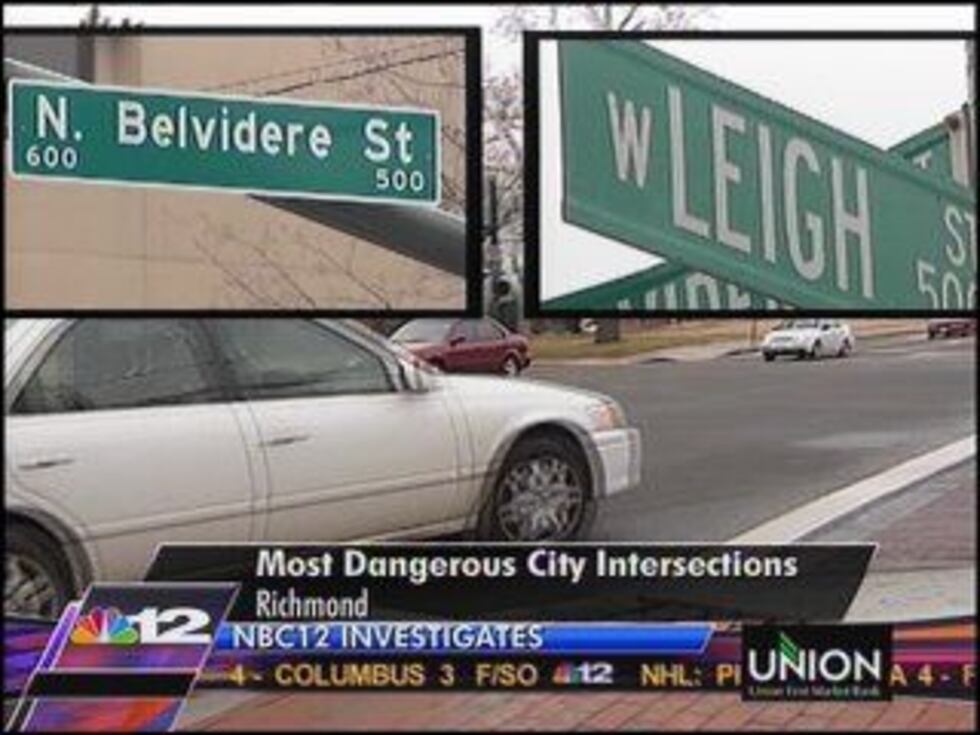 By Rachel DePompa - bio | email
Posted by Phil Riggan – email
RICHMOND, VA (WWBT) - Where are you most likely to get into a crash in Richmond? We've uncovered some of the top danger zones -- and they could be intersections you drive through every day.
We put together a list from information we obtained from the Richmond Police Department.  And two city streets appeared on it more than any other roads --Broad and Belvidere.
Coming in at Number 5 on our list of worst intersections in the city is Belvidere and Leigh streets. There were 15 crashes last year.
Number 4 is Broad Rock and Warwick roads. Police were called to 15 crashes in 2010.
Holding our Number 3 spot on the list is Laburnum and Hermitage roads with 16 crashes happening in front of the General A.P Hill statue.
The intersection with the biggest increase in crashes from 2009 to 2010 was Forest Hill Avenue and Chippenham Parkway. It's Number 2 on our list, up 16 spots from the previous year with 19 accidents.
And the Number 1 worst intersection for crashes in Richmond is Belvidere and Broad with 22 accidents last year.
Students like Twambo Moyo dare to cross here every day.
"I've seen a lot of almost accidents. there's been a lot of people who don't know how to use the traffic lights around here," Moyo said.
Tesh Patel works nearby and also is not surprised.
"I'm on this road all the time and think there's an accident just about every week. if not at least. there's some bumper to bumper accident," Patel said.
The city's traffic engineer, Tom Flynn, actually expects to see Belvidere and Broad on the list.
"It's our most heavily traveled intersection in the city. so, the odds of having an accident there just randomly are higher than other locations," Flynn said.
Each year Flynn takes the same numbers we asked for and studies them himself. Looking for patterns in the crashes -- anything that could make an intersection safer.
"If you go back 10 or 20 years, it was not unusual to have 6,000 accident a year in the city and now we're closer to 4,000," Flynn said.
There was one intersection on the list that surprised the city -- Forest Hill Avenue and Chippenham Parkway.
Flynn said the city will ask police for the accident reports and try to figure out why so many people were crashing there last year.
TOP 10 WORST INTERSECTIONS IN RICHMOND
Belvidere Street and Broad Street -- 22 accidents

Chippenham Parkway and Forest Hill Avenue -- 19

Hermitage Road and Laburnum Avenue -- 16

Belvidere Street and Leigh Street -- 15

Broad Rock Boulevard and Warwick Road -- 15

Broad Street and Terminal Place -- 15

6th Street and Franklin Street -- 14

18th Street and Main Street -- 13

Commerce Road and Hull Street -- 13

Belvidere Street and Main Street -- 12
Copyright 2011 WWBT NBC12. All rights reserved.