Richmond's Thanksgiving climatology
Near average temperatures for Thanksgiving are expected this year
Published: Nov. 20, 2023 at 5:41 PM EST
RICHMOND, Va. (WWBT) - Thanksgiving this year is expected to be seasonable in central Virginia, right near the average for temperatures in RVA in late November. High temperatures are expected to be identical to our average high of 57° on Thanksgiving Day at RIC.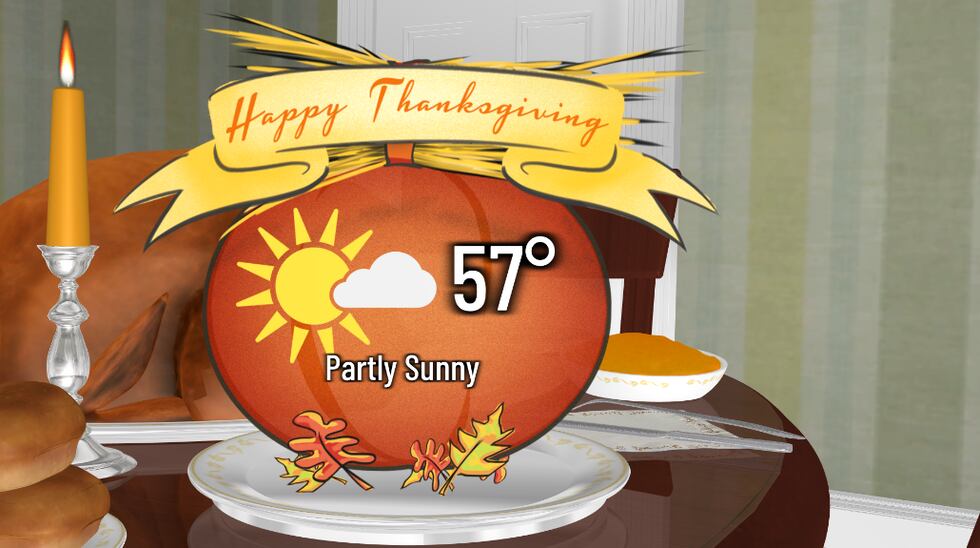 Looking back through Richmond's recorded climate history, there can be a wide range of temperatures on turkey day. Coincidentally, the highest and lowest recorded Thanksgiving temperatures both happened in the 1930s. The record warmest temperature on Thanksgiving was 77° in 1933. The record coldest temperature was just a few years before that, when it dropped to 20° in Richmond on Thanksgiving in 1930, according to National Weather Service records.
As you might expect, snow is rare on Thanksgiving in RVA. There have been three times in recorded history (since 1897) with snow on Thanksgiving in Richmond. Our most recent white Thanksgiving was in 1989, when 1.1 inches of snow fell early that morning. 1989 was also a frigid Thanksgiving, as the high temperature only reached 35° at RIC.
The other two years in Richmond's climate history with snow on Thanksgiving were when 2 inches of snow fell on Thanksgiving in 1912, which was the most on Thanksgiving, and 1.2 inches of snowfall was recorded in 1938.
For updates on our Thanksgiving forecast download the NBC12 First Alert Weather app. You can find the app in the Apple Store and on Google Play.
The NBC12 First Alert weather app features updated video forecasts throughout the day, an hour-by-hour forecast, severe weather alerts and much more.
You can also track updates in the forecast in the 24/7 First Alert Weather stream
Copyright 2023 WWBT. All rights reserved.