First Alert Weather Day: Increased fire danger on Saturday
Worsening drought plus low humidity and gusty winds means fires could easily start and quickly spread
Published: Nov. 17, 2023 at 11:33 AM EST
|
Updated: Nov. 18, 2023 at 7:39 AM EST
RICHMOND, Va. (WWBT) - Saturday's weather conditions could cause already burning wildfires in the mountains to spread and new ones to pop up if we're not careful.
The largest fire closest to Richmond is the Matt's Creek Fire. Still uncontained, this fire has burned 3600 acres as of midday Friday. A searchable map of active fires can be found here
The drought monitor (updated every Thursday) shows that soil is continuing dry out in Virginia. Richmond International Airport is reporting only a trace amount of rain so far this November, coming off a very dry October with a 2 inch rain deficit.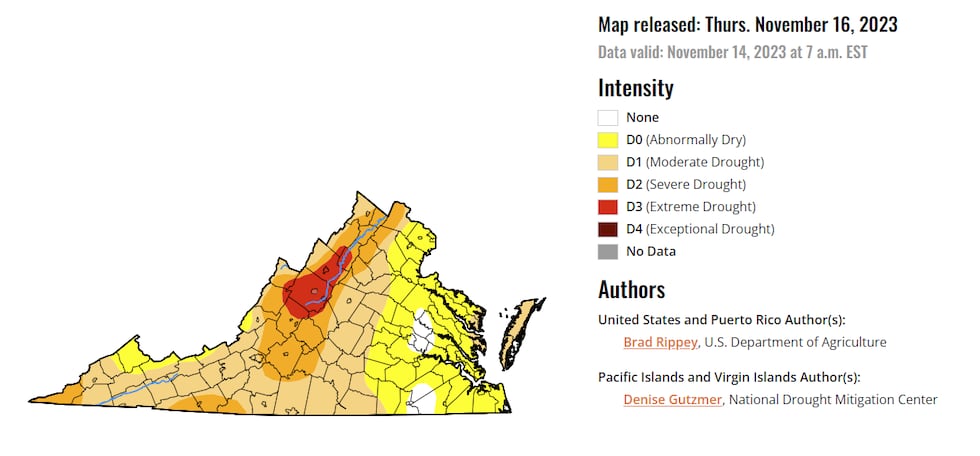 An Increased Fire Danger Alert is in effect Saturday. This does not ban burning but discourages it (scroll further down to see the burn bans and restrictions that have been issued by local municipalities). Do not dispose of cigarettes or live charcoal on the ground where they could catch dry grass or leaves on fire. Sparks or embers from machinery, grills and fire pits could easily start fires.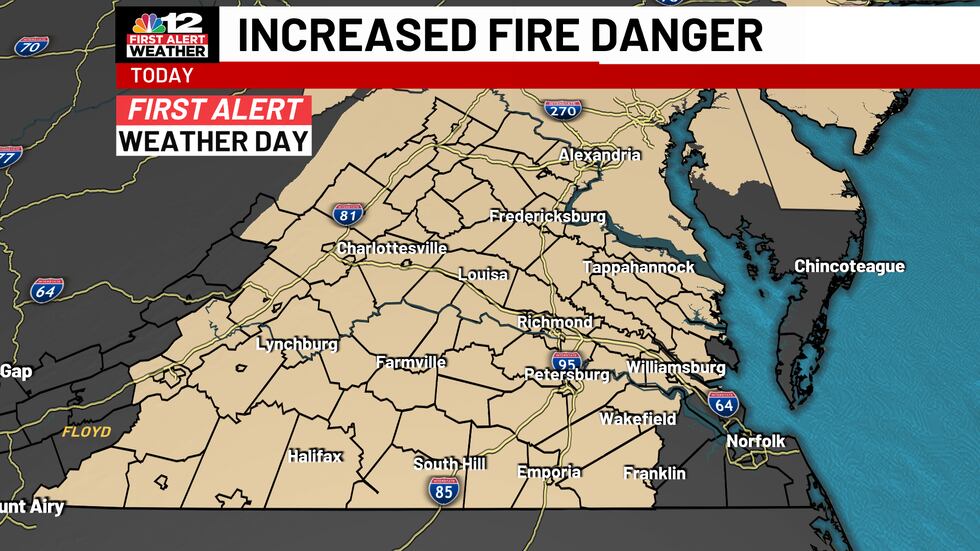 From the Virginia Department of Wildlife Resources: "Due to exceptionally dry conditions, the Department of Wildlife Resources has implemented a complete ban on any open burning (e.g., campfires, grills) on all DWR properties west of Interstate 95, effective immediately and lasting until further notice."
As far as we know, Louisa and Goochland Counties and The City of Richmond have enacted a burn ban.
From Louisa County:
"This burn ban will prohibit the following:
* Burning of brush, leaves, grass, trash, debris or any other flammable material
* The ignition or maintenance of any open fire within the County
* Agricultural burning (agricultural wastes, crops, field burning, etc.)
* Residential, commercial or industrial burning"
For more information on the Louisa burn ban, click here.
From Goochland County:
"The Goochland County Fire Marshal hereby prohibits all open burning in Goochland County, suspends all previously issued open burning permits, and suspends the issuance of any new burn permits."
For more information on the Goochland burn ban, click here.
For additional updates, download the NBC12 First Alert Weather app. You can find the app in the Apple Store and on Google Play.
The NBC12 First Alert weather app features updated video forecasts throughout the day, an hour-by-hour forecast, severe weather alerts and much more.
You can also track updates in the forecast in the 24/7 First Alert Weather stream
Copyright 2023 WWBT. All rights reserved.