Weather spotter training in Richmond, Chesterfield this week
Two opportunities to become a trained weather spotter this week in RVA
Published: Nov. 14, 2023 at 6:33 PM EST
RICHMOND, Va. (WWBT) - Have you ever wanted to become a trained National Weather Service (NWS) weather spotter? Now is your chance to attend a training class!
Weather spotters are volunteers who report rainfall and snowfall amounts along with any severe weather damage they observe to the National Weather Service office in Wakefield, Virginia. Those reports are often sent to meteorologists at NBC12 to share on TV as well.
SKYWARN weather spotters generally stay at home in a safe place during severe weather. They are not the same thing as storm chasers. NBC12 talked with a weather spotter in Henrico in 2021 about why he enjoys volunteering.
On Wednesday, Nov. 15 at 6:30 p.m., there will be a basic weather spotter training class at the University of Richmond Business School at 102 UR Dr. The National Weather Service says the basic class will cover severe weather ingredients, the role of spotters, why they are needed, and weather safety tips.
An advanced class will take place the next night on Thursday, Nov. 16 at 6 p.m. at the Central Library in Chesterfield at 7051 Lucy Carr Drive. The advanced class builds on the basic class and includes information on the importance of wind shear in severe weather, along with advanced radar concepts, according to the NWS.
You must register in advance for these trainings at this link.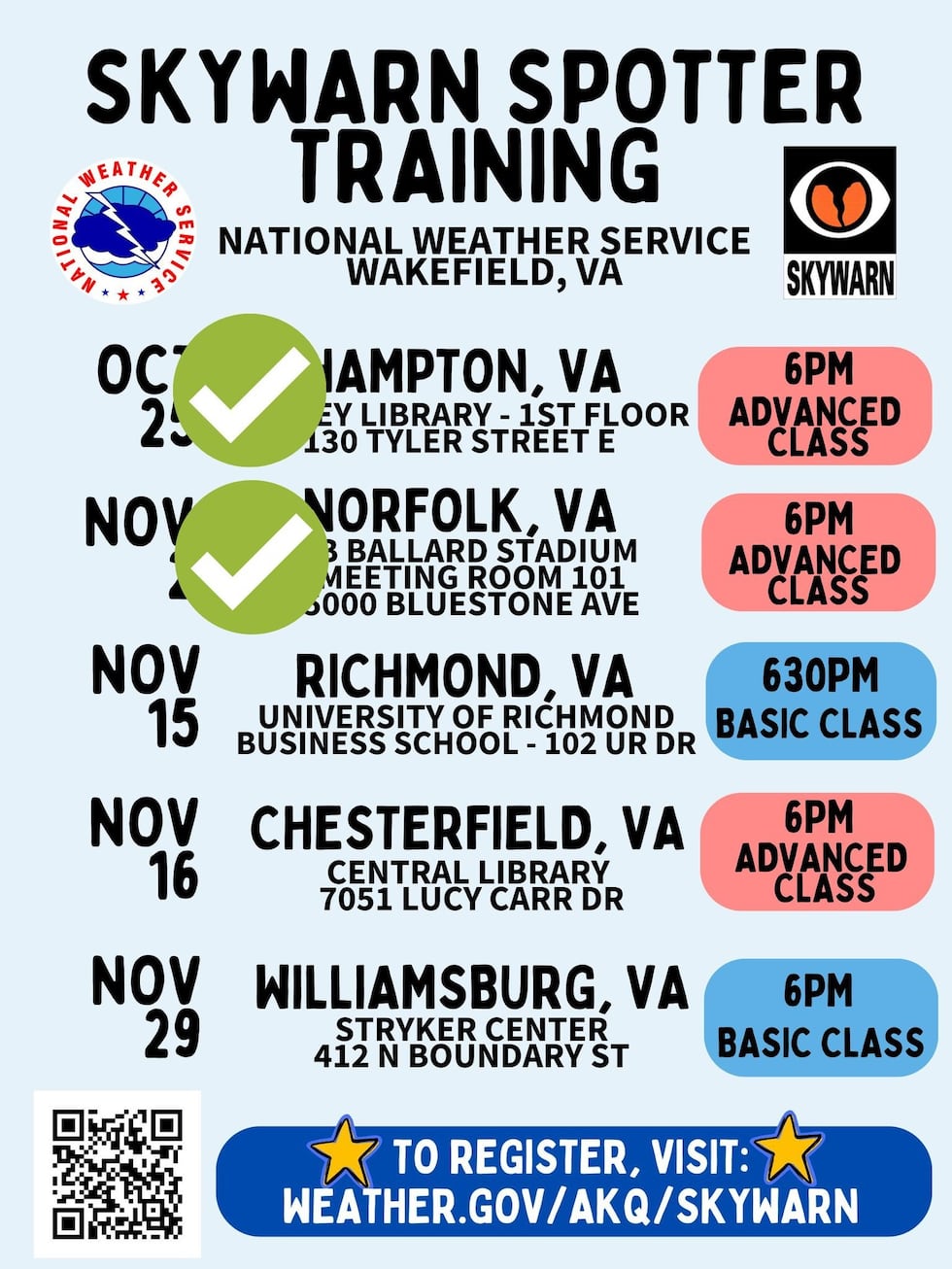 Copyright 2023 WWBT. All rights reserved.