Questions raised about primary residence of state Sen. Hashmi
Published: Nov. 13, 2023 at 7:12 PM EST
|
Updated: Nov. 14, 2023 at 2:49 PM EST
* NOTE: This story has been updated with a statement from Sen. Hashmi
RICHMOND, Va. (WWBT) - State Sen. Ghazala Hashmi is one of the newly elected state legislators who helped tip the scale of power in Virginia's General Assembly in favor of the Democrats in last week's elections.
She is now under scrutiny for statements she made on official election documents that some say are false.
"I'm calling on her to step down," said Republican state Sen. Amanda Chase, who represents District 11. "There needs to be a full investigation by the attorney general's office. The State Board of Elections needs to take action. She's violated the law."
On election documents, Hashmi stated that her primary residence is a rented apartment in District 15, which she will now represent.
But real estate documents show her name as a joint-owner of a house in Midlothian, which she has shared with her husband for 24 years, in the newly-rezoned District 12. It was formerly District 10, which is the district she last represented.
"The biggest offense here is that on her statement of economic interest, she didn't list this property that she's lived in for 24 years, as her secondary address," said Chase.
It is not illegal to run for office and own multiple properties, but under Virginia law, a state legislator is required to have their primary residence in the district that they represent.
In the context of elections, the Code of Virginia defines "residence" or "resident" as both domicile and a place of abode. "To establish domicile, a person must live in a particular locality with the intention to remain. A place of abode is the physical place where a person dwells," according to the law.
Hashmi's statements of Economic Intent and Statement of Qualification: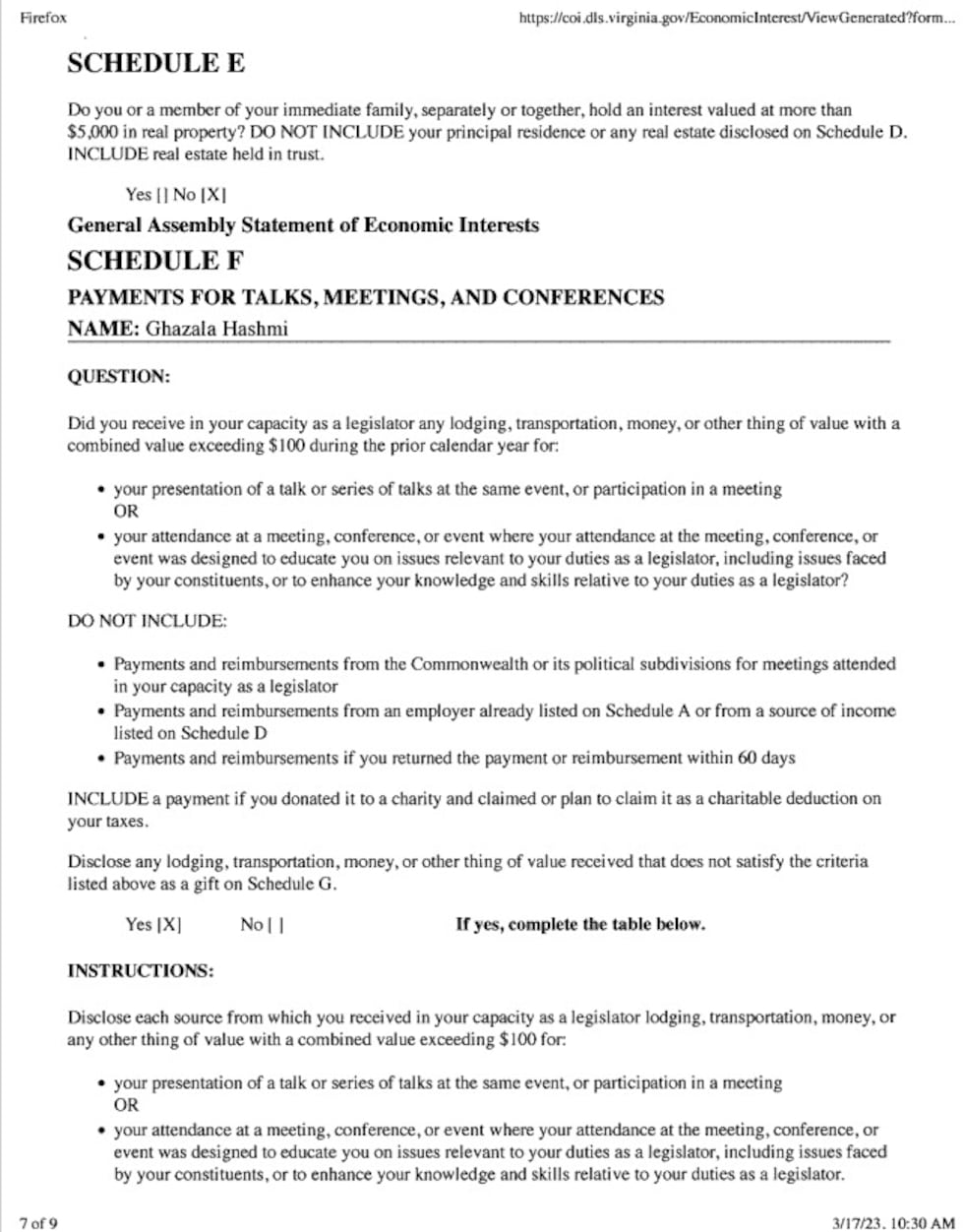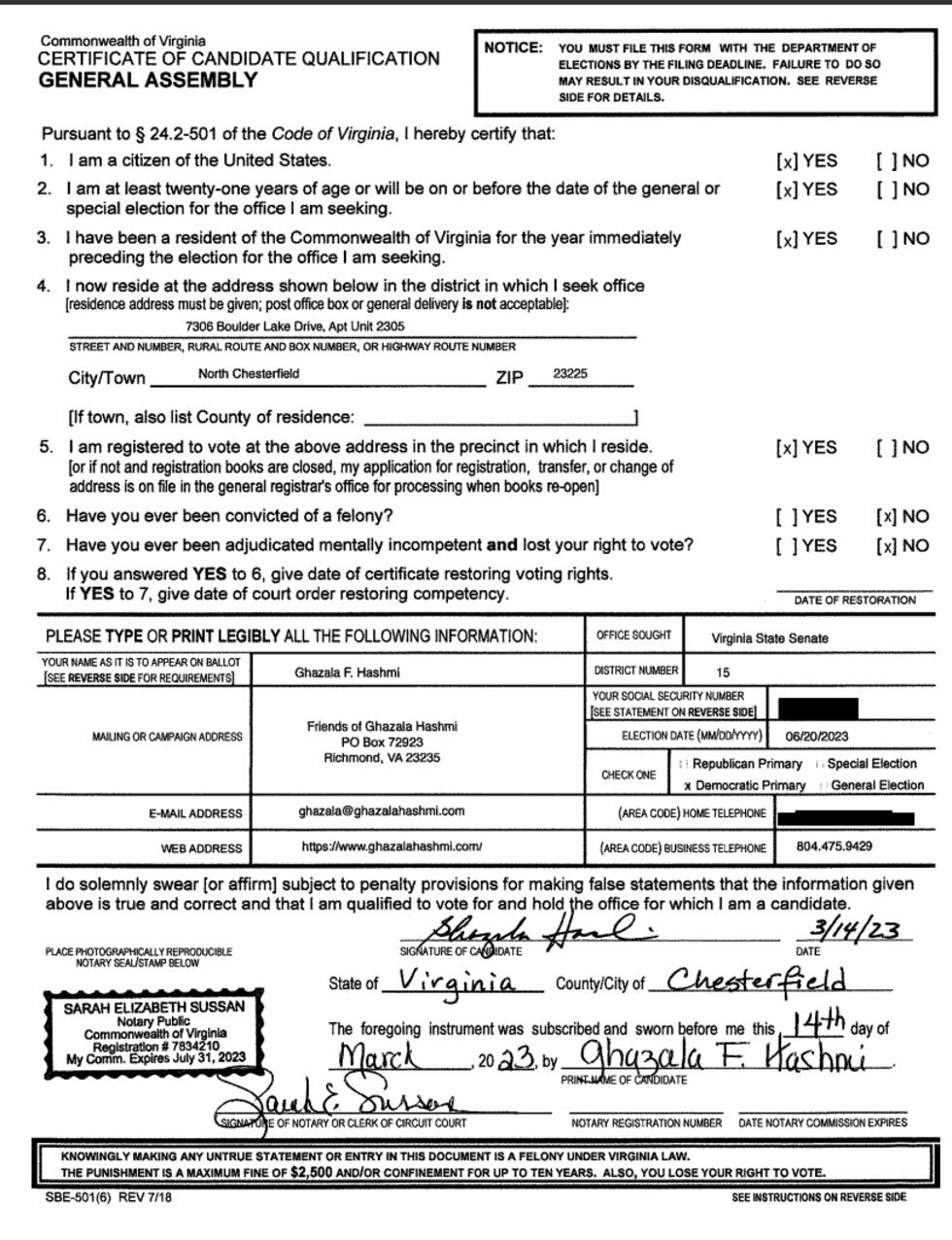 Chase and other critics claim Hashmi violated the law in two ways, by reporting an address that is not her primary residence and then by denying that she owned any other property.
"Her neighbors were already raising the flag about that not being her primary residence," said Chase. "Her home of 24 years is not currently listed for sale according to real estate websites and her car has been observed to be parked there regularly. It's easily identifiable because it has special legislator plates."
Henry Chambers, a voting rights expert and law professor at the University of Richmond, says it's very difficult to prove intent to deceive.
"A few photos of people walking into and leaving houses at particular times isn't going to be enough to prove that someone has said something untrue," said Chambers.
Virginia's attorney general and state police would have to investigate if a crime was committed, and then it would go before a judge.
If they determine she is not eligible to hold onto her seat in District 15, then a special election will be called to elect a new state senator for that district.
"It will be difficult for a court to rule her ineligible since she has just been re-elected," said Larry Sabato from the Center for Politics at the University of Virginia.
"This is one of the problems with redistricting, especially one like we've just had which completely ripped up the districts that we had, and has substituted new lines that almost nobody is familiar with," added Sabato.
The Virginia Public Access Project (VPAP) is a nonpartisan non-profit that tracks election results.
The new executive director of VPAP, Chris Piper, is the former Commissioner of the Virginia Department of Elections.
He says a special election would not likely sway the current balance of power in Virginia's General Assembly, because District 15 leans mostly Democratic.
"The likelihood that a Republican would even win that seat is a stretch," said Piper.
Chase argues that a special election would not be necessary because Hashmi never met the initial qualification to run for office.
"Article IV, Sec. IV of the Virginia Constitution states you must live in the district that you plan to represent," said Chase. "By not filing the correct paperwork, she should automatically be disqualified."
On Tuesday afternoon. Hashmi posted a statement on social media:
"Leave it to MAGA election deniers to spread lies and throw a tantrum over the outcome of an election. I'm proud the voters have re-elected me so I can keep serving our community, and I am excited to continue delivering results for Virginia families."
NBC12 attempted to reach out to representatives from both the Republican and Democratic parties of Virginia, but never received a reply.
Copyright 2023 WWBT. All rights reserved.