Hundreds gather for VCU student walkout in support of Palestine
Published: Nov. 9, 2023 at 6:38 PM EST
RICHMOND, Va. (WWBT) - Hundreds of VCU students walked out of class Thursday afternoon, calling for an end to Israel's war in Gaza.
"I've been displaced myself, so I understand the struggle," said teacher Brenda Fernanda Diaz Castro.
Sophomore Sereen Haddad organized the protest.
"My entire family is Palestinian," she said. "My entire family on my dad's side is from Gaza. Since Oct. 7, 72 of my family members have been killed."
She urged the crowd not to become de-sensitized by the images of war.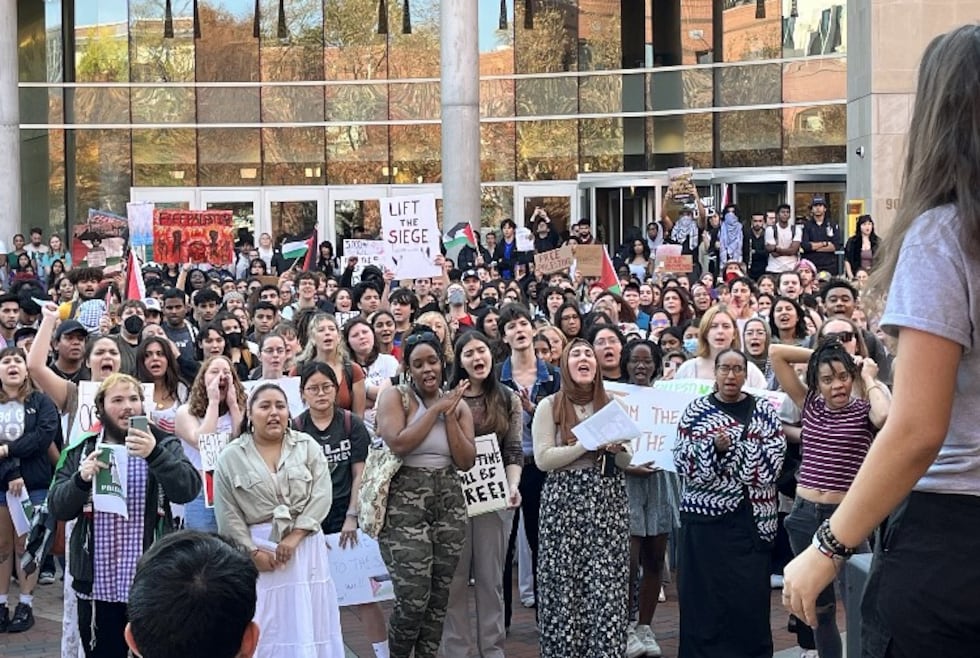 "Don't get used to the rising death count," she said. "Don't get used to the white body bags. Don't get used to their screams and their tears and their agony."
It was a peaceful turnout, with the crowd listening respectfully as Haddad spoke and clapping occasionally.
Many held handmade posters and signs showing support for Palestine, and some waved Palestinian flags.
"This is not a politics, or religion or an ethnic issue. It's a human rights issue," Haddad said. "We renounce all violence against civilians, including, of course, against Israelis. But where is the outcry for Palestinians who are killed each and every day under occupation?"
Among the cheers in the crowd, there were chants of a slogan that many have called antisemitic: "From the river to the sea, Palestine will be free."
Many in the Jewish community see the chant as a call to wipe out Israel.
But we spoke to some Jewish students at the walkout who felt differently.
"You cannot be a religious Jew and at the same time support an apartheid state that commits genocide," said Austin Matir, a sophomore education major.
″We ourselves have seen genocide and violence against our people, and to enact it on another group of people is counterintuitive and completely wrong," said student Ocean Bard.
Protestors gathered at VCU's Compass for about 40 minutes before taking their march around the block a couple of times, still chanting, carrying posters and waving Palestinian flags. NBC12 did not see any counter-demonstrations on the pro-Israel side.
Copyright 2023 WWBT. All rights reserved.