Madison County wildfire expands to 425 acres near Shenandoah National Park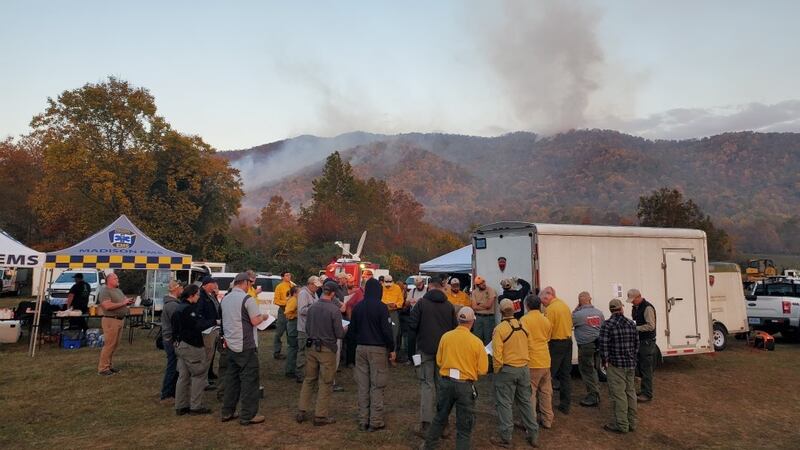 Published: Oct. 31, 2023 at 5:15 AM EDT
A wildfire that began a week ago on 20 acres in central Virginia's Madison County has expanded to 425 acres near Shenandoah National Park and is expected to grow while firefighters construct a broader containment line to stop the blaze's spread.
"The objective is to burn out the fuel (leaves, fallen trees, branches, etc.) between the fire lines," said Virginia Department of Forestry spokesperson Greg Bilyeu in an email. "While this approach results in a larger fire in the short term, implementing this strategy will help us achieve our objective of providing firefighter and public safety while protecting homes and other critical infrastructure."
To date, no structures have been damaged by what the agency is calling the Quaker Run Fire, after a nearby roadway. The forestry agency says the property is privately owned and lies near both the Rapidan Wildlife Management Area and the Shenandoah National Park.
Bilyeu said officials haven't figured out the cause of the conflagration yet. While an investigation is underway, he said the department's first priority is managing and halting the fire. As of Monday afternoon, the Department of Forestry estimated it was 35% contained.
Firefighters are in the process of digging a containment line — a perimeter that deprives a fire of any fuel source, stopping it from progressing any farther — around 650 acres surrounding the wildfire.
"This fire will quickly run out of fuel when it reaches the firelines crews are creating that will prevent its progress past the 650-acre containment area," said VDOF Chief of Fire and Emergency Response John Miller in a release issued Saturday when the fire had expanded to cover 390 acres. "As long as weather conditions don't shift, we anticipate this fire will be fully contained within the next few days."
READ MORE ON VIRGINIAMERCURY.COM >>>

Copyright 2023 WWBT. All rights reserved.