Season-ending freeze likely Wednesday night into Thursday
Coldest temperatures of autumn so far expected as temperatures fall into the 20s
Published: Oct. 31, 2023 at 10:58 AM EDT
|
Updated: Nov. 1, 2023 at 6:58 PM EDT
RICHMOND, Va. (WWBT) - The first widespread freeze of autumn is expected Wednesday night into Thursday morning across central Virginia. Freeze watches and warnings are in effect for much of the commonwealth.
Temperatures Wednesday night into early Thursday will drop into the upper 20s in RVA and low to mid 20s across rural locations, especially west of I-95. Temperatures that cold will kill any remaining tender plants and put an end to the growing season.
Now is the time to harvest any fruits or veggies remaining in your garden! The freeze will help end mosquito season too.
It is common for central Virginia to see the first freeze of fall in early November, according to data shared from Larry Brown at the National Weather Service office in Wakefield, Virginia.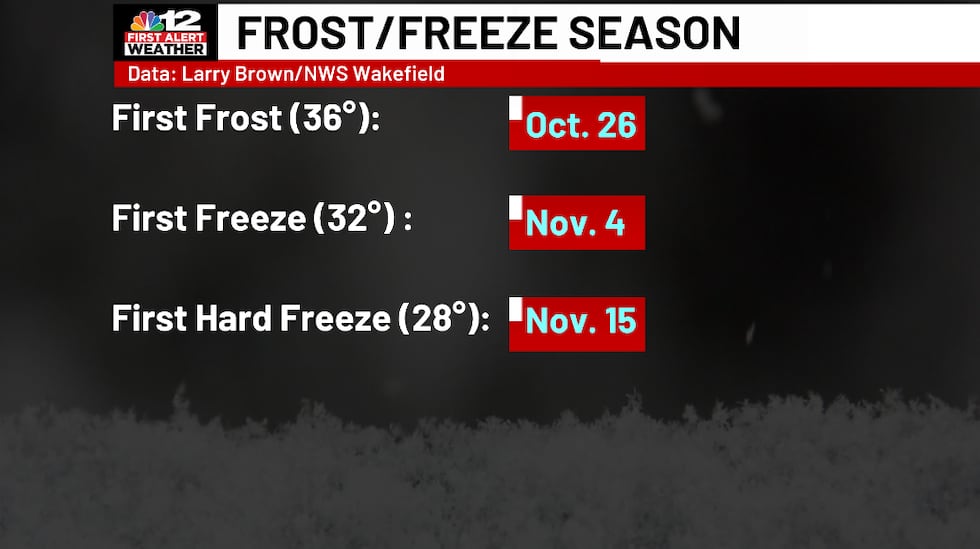 For updates on this cool down and colder weather to come as we approach winter, download the NBC12 First Alert Weather app. You can find the app in the Apple Store and on Google Play.
The NBC12 First Alert weather app features updated video forecasts throughout the day, an hour-by-hour forecast, severe weather alerts and much more.
Track updates in the forecast in the 24/7 First Alert Weather stream:
Copyright 2023 WWBT. All rights reserved.