First Alert: Chilly with light rain on Halloween
Heavier coats and an umbrella may be necessary for trick or treating
Published: Oct. 27, 2023 at 10:54 AM EDT
|
Updated: Oct. 31, 2023 at 11:41 AM EDT
RICHMOND, Va. (WWBT) - It will be a chilly, gloomy Halloween with damp weather expected through the afternoon.
Areas of light rain are likely early today, becoming focused over southern and southeastern Virginia in the afternoon and evening. There could be lingering light rain or drizzle even in RVA towards trick or treat time.
High temperatures on Tuesday will struggle to reach 50°, and are expected to fall into the 40s by trick or treat time Tuesday evening.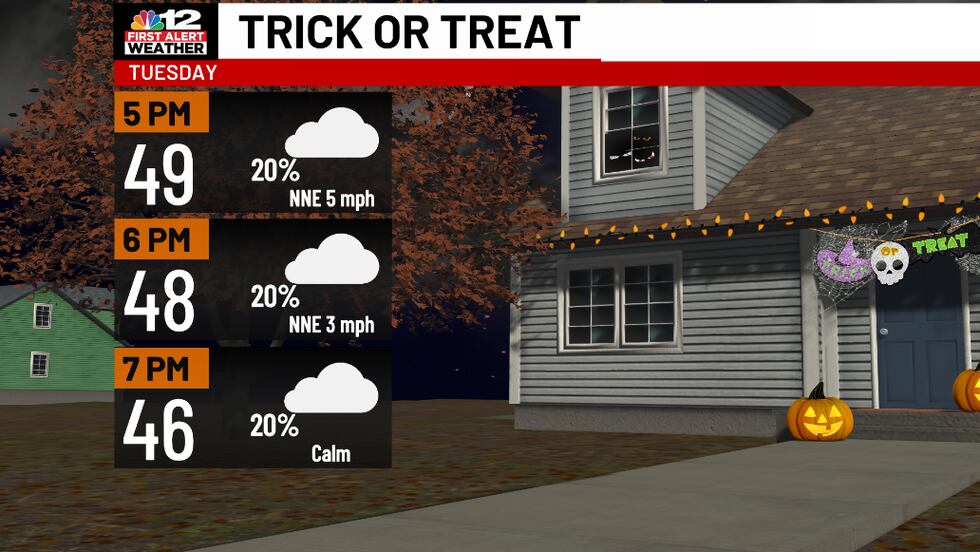 Add warm layers to your Halloween costumes and an umbrella may be a good accessory just in case.
For updates on this cool down and colder weather to come as we approach winter, download the NBC12 First Alert Weather app. You can find the app in the Apple Store and on Google Play.
The NBC12 First Alert weather app features updated video forecasts throughout the day, an hour-by-hour forecast, severe weather alerts and much more.
Watch the new 24/7 First Alert Weather stream:
Copyright 2023 WWBT. All rights reserved.