University of Virginia says campus shooting investigation finished, findings to be released later
Officials say an external investigation of the events surrounding the shooting that killed three University of Virginia student-athletes and wounded two others on campus last year has been completed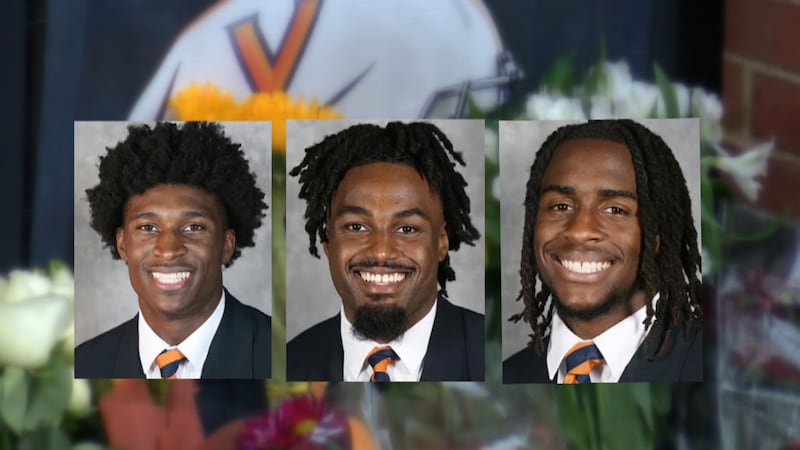 Published: Oct. 20, 2023 at 4:52 PM EDT
RICHMOND, Va. (AP) — An external investigation of the events surrounding the shooting that killed three University of Virginia student-athletes and wounded two others on campus last year has been completed but won't be made public immediately, officials said Friday.
UVA received the report Friday and university leadership has begun to review it, spokesperson Brian Coy said in an emailed statement. The recommendations will be discussed with UVA's Board of Visitors and those most affected by the shooting and then released publicly, "with a goal of doing so by early November," Coy said.
"University leaders remain committed to learning as much as possible about the tragedy and the circumstances that led to it, and to applying those lessons to keep the community safe," Coy said.
In November 2022, according to authorities, a UVA student and former member of the school's football team fatally shot three members of the team as they and others returned by charter bus to campus from a field trip to see a play in Washington. Two other students were injured, one of them also a football player.
The violence that erupted near a parking garage set off panic and a 12-hour lockdown of the campus until the suspect was captured.
Within days of the shooting, university leaders asked for an outside review to investigate UVA's safety policies and procedures, its response to the violence and its prior efforts to assess the potential threat of the student who was eventually charged. School officials acknowledged he previously had been on the radar of the university's threat-assessment team.
Attorney General Jason Miyares granted the request for the probe, appointing outside counsel to conduct a review.
Miyares' office — which provides legal advice to state higher-education institutions — first disclosed Friday that the review had been completed but said the office could not release it to the public due to "attorney-client ethical rules."
"The deaths of Devin Chandler, D'Sean Perry, and Lavel Davis Jr. are a tremendous tragedy and we continue to remember them, their families, and what they meant to the UVA community," Miyares said in a statement. "My office, thanks to the work of the special counsels, has procured a thorough report of last fall's tragic events, and I am thankful for their deliberate efforts."
Murder charges against the suspect, Christopher Darnell Jones Jr., were upgraded in September from second-degree murder to aggravated murder. Online court records show his next court hearing on those and other charges is in February.