Cooler 'sweater weather' arrives this weekend
Highs Sunday into next week will be in the mid to upper 60s with lows in the mid-40s
Published: Oct. 2, 2023 at 3:57 PM EDT
|
Updated: Oct. 3, 2023 at 3:19 PM EDT
RICHMOND, Va. (WWBT) - After a warm work week with above average temperatures, a substantial cool down will arrive this weekend.
A cold front will push across central Virginia on Saturday, ushering in cooler temperatures. The cold front may bring a few rain showers on Saturday especially during the afternoon and evening.
After the cold front passes, it will turn much cooler with high temperatures on Sunday and Monday in the mid-60s. Low temperatures will likely drop into the mid to upper 40s early next week!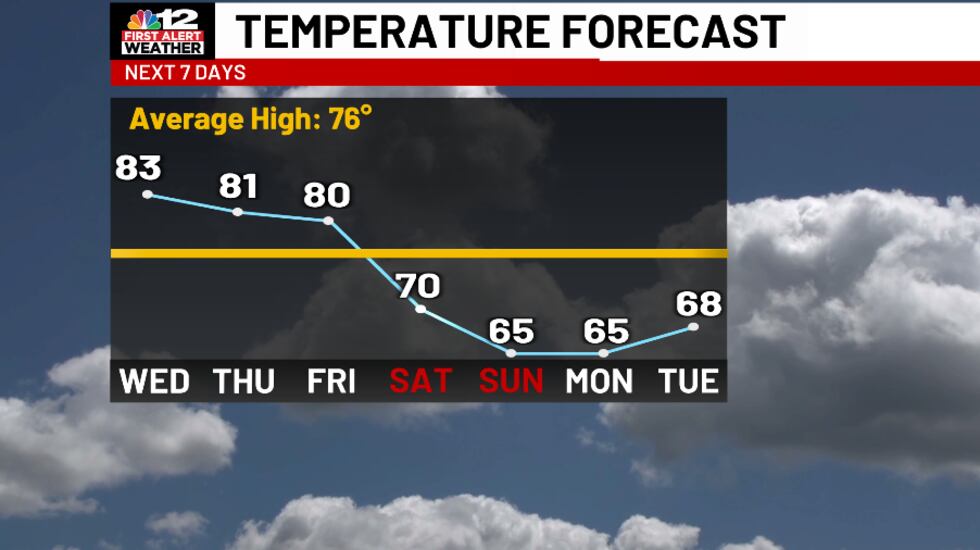 It will be "sweater weather" - time to get a jacket for the morning commute and for the kids at the bus stop in the morning. In addition, the air is going to dry out-- making it feel CRISP for the first time this year. In fact, you might even notice your skin getting dry for the first time.
The cooler than average weather will likely stay with us for much of next week (October 8-14).
For updates on this cool down and colder weather to come as we approach winter, download the NBC12 First Alert Weather app. You can find the app in the Apple Store and on Google Play.
The NBC12 First Alert weather app features updated video forecasts throughout the day, an hour-by-hour forecast, severe weather alerts and much more.
Copyright 2023 WWBT. All rights reserved.