'I'm in the hope of healing': Djimon Hounsou shares mission and meaning behind Run Richmond 16.19
Published: Sep. 26, 2023 at 9:48 PM EDT
|
Updated: Sep. 26, 2023 at 9:52 PM EDT
RICHMOND, Va. (WWBT) - On Saturday, Sept. 30, hundreds will participate in the 2nd Annual Run Richmond 16.19 run/walk.
"Richmond represents so much of American history. And, of course, you couldn't really speak of American history without acknowledging Black history in this country. This is powerful," explained actor and humanitarian Djimon Hounsou.
In 2019, the Oscar nominee created the Djimon Hounsou Foundation with a two-fold mission.
Strengthen Africa's intergenerational identity and self-awareness by reconnecting the Peoples of the African Diaspora with their motherland and celebrating 'Unity in Diversity.'
Combat modern-day slavery & human trafficking to stop exploitation, loss of freedom, and identity, and educate about the causes, stakes, and consequences of slavery.
Sept. 17, 2022, marked the first Run Richmond 16.19 to commemorate the achievements & sacrifices African Americans have made to our nation and to celebrate Unity in Diversity through a symbolic course of 16.19K and 6.19K.
"The idea eventually came where I thought, wow, what are the events that bring people together? Only sports and music really bring people together," he said. "I thought about a marathon. It's a marathon that you can walk. You don't have to necessarily run it. This is all about education and the healing of the soul.
Born and raised in the Benin Republic in Western Africa, Hounsou says coming to America brought a painful awakening about Black history.
"Growing up in Benin Republic, it obviously is a place that has been quite instrumental in the [slave] trade because there were so many millions of Africans that left that coastline," he said. "I knew nothing. I knew nothing about my history. I knew nothing about my country. I knew nothing about my continent."
Starring in Steven Spielberg's 1997 film Amistad, he played Cinque. The film is centered around the slave trade in the 1800′s.
"My education happened. I would think when I moved to America. It was extremely painful to realize who you are, what your ancestors went through," Hounsou explained.
In the 1800′s, historians say at least 300,000 enslaved people of African descent were sold in the South. Richmond became the largest intrastate slave market on the East Coast. The market was in the Shockoe Valley, today known as Shockoe Bottom.
"Over 80% of Afro-descendants living in America can trace the lineage all the way back to Richmond," said Hounsou.
Hounsou has remained committed to honoring the history and culture of Black people, reconnecting the African Diaspora to Africa, and creating unity through embracing and celebrating diversity.
"We as Afro-descendants really need to have a place to acknowledge our history, acknowledge what took place, what happened to our ancestors, and to appease their souls," he said. There is so much grief and intergenerational trauma to Afro-descendants and, I think, indirectly to white people in this country as well because we're intertwined in this struggle."
Hounsou says the race course for 16.19 is meant to help the community feel connected to history.
"This city holds so much of history. The courses that we have designed, for the long course 16.19 kilometers and the short 6.19 kilometers--throughout the courses, you could see, touch, and feel the history of this city," said Hounsou.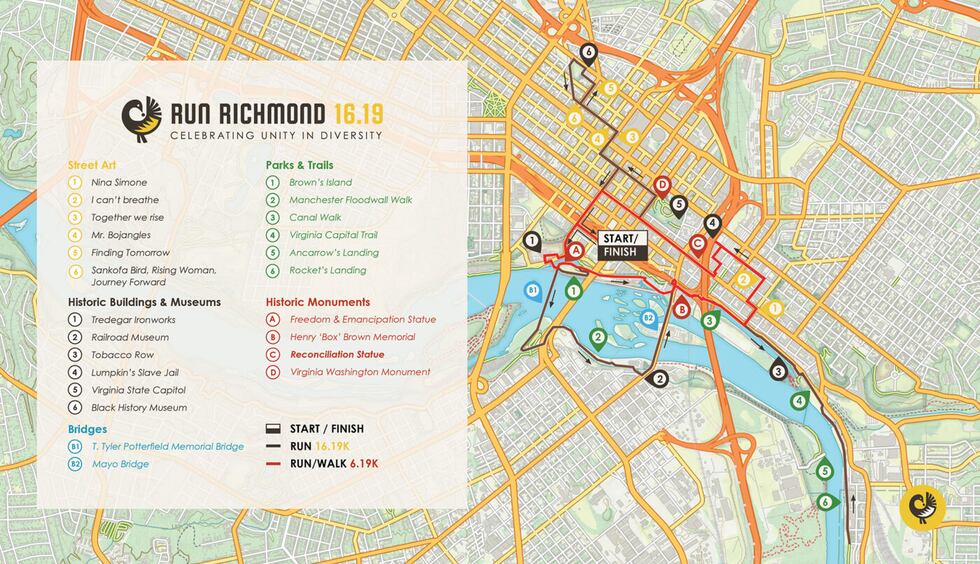 It is not too late to register for race day. Click here.
Copyright 2023 WWBT. All rights reserved.